If you are someone who likes to (try to) stay on top of things, then finding the best digital planner apps can be extremely helpful because they help you to organize yourself well. If you're trying to stay organized on your own without the help of a digital planner app, it can be a lot more challenging because it's not easy to stay on top of everything.
We've all been there. We want to organize our life, but we don't know where to start.
Thankfully, the last few years have seen a huge increase in digital planners and organizers. These days, you can almost find an app for anything. But do those apps help? Here are the five best digital planners and organizers for you to consider.
What Are The Best Digital Planners for 2023?
Availability: Win+Mac
If you are searching for a tool that brings together tasks and a calendar in a smart, clean interface look no further. Akiflow will automatically import your tasks and calendars from other tools to organize your daily schedule with ease in a slick digital planner view.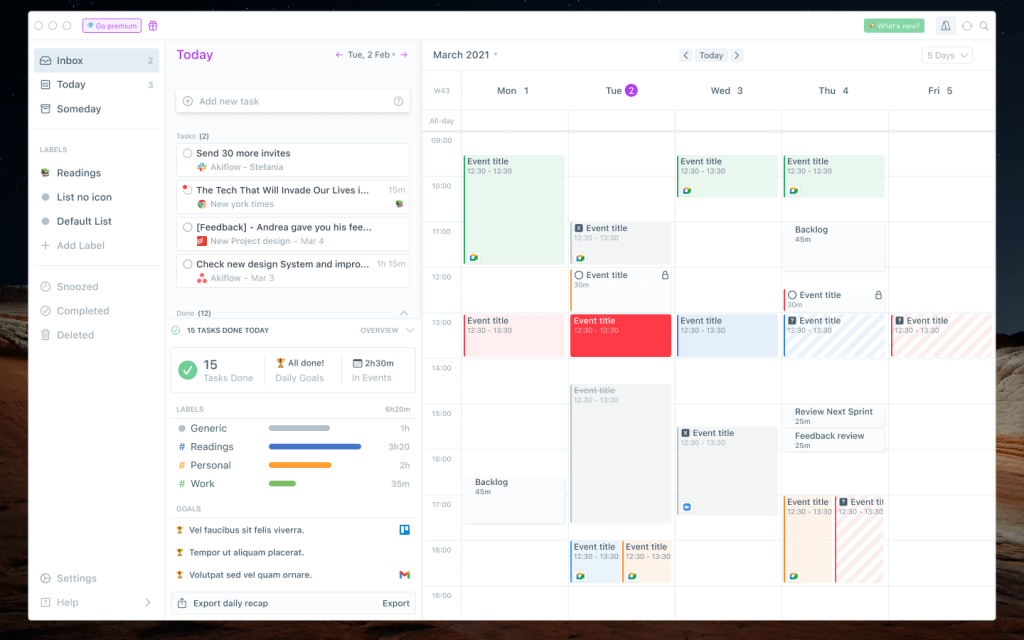 Firstly, Akiflow makes it easy to consolidate your tasks from everywhere so you can centralize your tasks and stop juggling between different apps by importing all your tasks from your favorite tools.
Secondly, you can organize your daily tasks in an integrated digital planner. Are you asking yourself: Can I drag and drop the tasks in the calendar? The answer is Yes. Finally.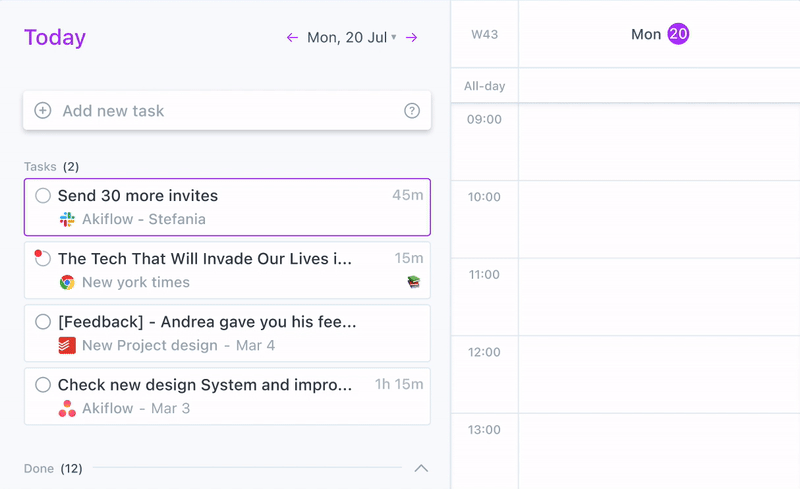 Top Features:
️Automatically import all your tasks from other tools with native integrations (Asana, Gmail, Slack, Todoist, Notion, ClickUp, Trello) and from many others with Zapier.
️ Block time for your tasks, so you can see everything you need to get done in your calendar.
️Create tasks and calendar events in a second using keyboard shortcuts and our smart command bar.
Get alerts before an important meeting, jump on a call with one click, and see your day at a glance.
Try Akiflow for free now! No credit card is required.
Availability: Ipad
GoodNotes is a note-taking app that combines the handwritten and pen-in-hand experience of paper with the power and flexibility of digital. It was created for those looking for a more immersive way to jot down their thoughts, tasks, and plans for the day. GoodNotes is a flexible app that allows you to do many things as if you were writing on paper. You can create folders, sync your notes, and more.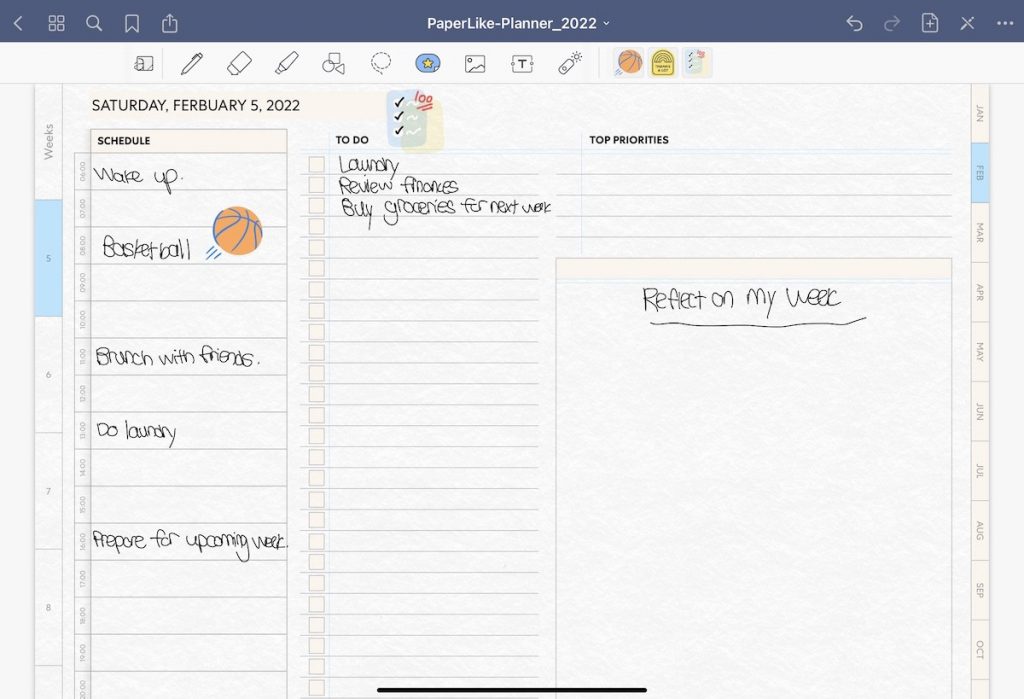 Top Features:
You can use your handwriting instead of typing your notes.
Create folders to organize your notes.
Sync your notes across devices.
Availability: Mac & Windows, Mobile, Web
Notion, is becoming quite popular as a planner used to manage tasks and organize your time. Many users are turning to Notion as they search for an alternative to Evernote, Trello, Google Calendar, and OneNote. If you want to use Notion as your planner, there are several ways to do so. You can either create your own or use some of the templates that come with Notion. You can track tasks, and habits, or plan your week or month. Notion has a mobile version that is possibly one of the best daily planner apps available.
If you are already a Notion user and would like to see your tasks in the Calendar you can use the native integration with Akiflow
You might want to take a look at a template that can work for you. Notion offers a wide range of templates that can work as your daily planner, here's an example of a beautiful weekly planner template.
Top Features:
Great for note-taking.
Extreme flexibility and customization.
Rich templates library.
Free versions are available.
Availability: Mac & Windows, Mobile, Web
Todoist is perfect to plan out your day, week, and month. The program comes with tools that allow individuals and teams to track their important tasks and manage shared projects across a range of different platforms.
If you'd like to see your Todoist tasks planned in the calendar, you can use the native integration with Akiflow.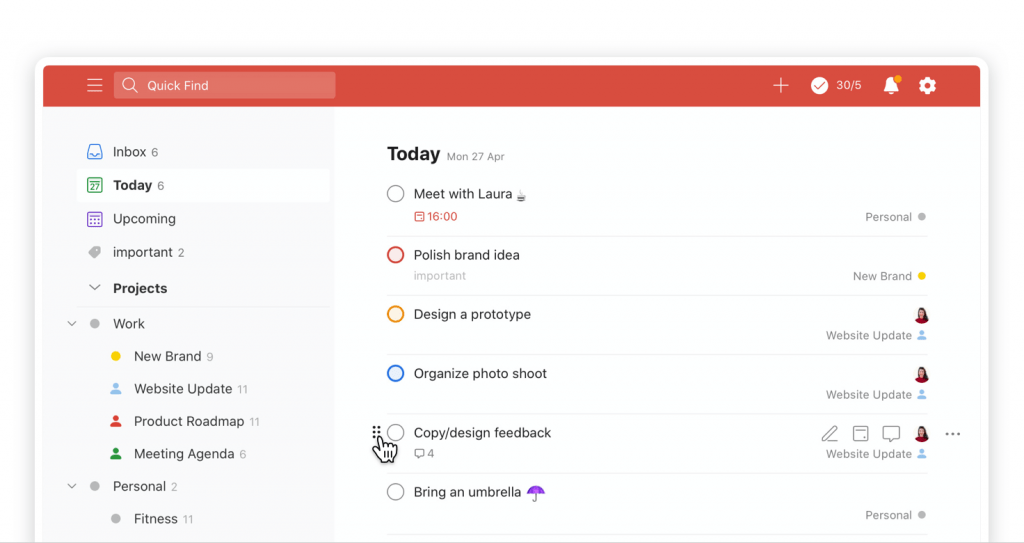 Top Features:
Todoist is available on a number of platforms including Android, iOS, Windows, macOS, and the web.
Gamification with the Todoist Karma to stay motivated and visualize your productivity.
The Tool is available in 20 different languages.
Free versions are available.
Trello is a free web-based project management tool that organizes your projects into boards. Boards are a collection of lists, which are made up of cards. Cards represent tasks or pieces of projects. The cards move between lists as they get done.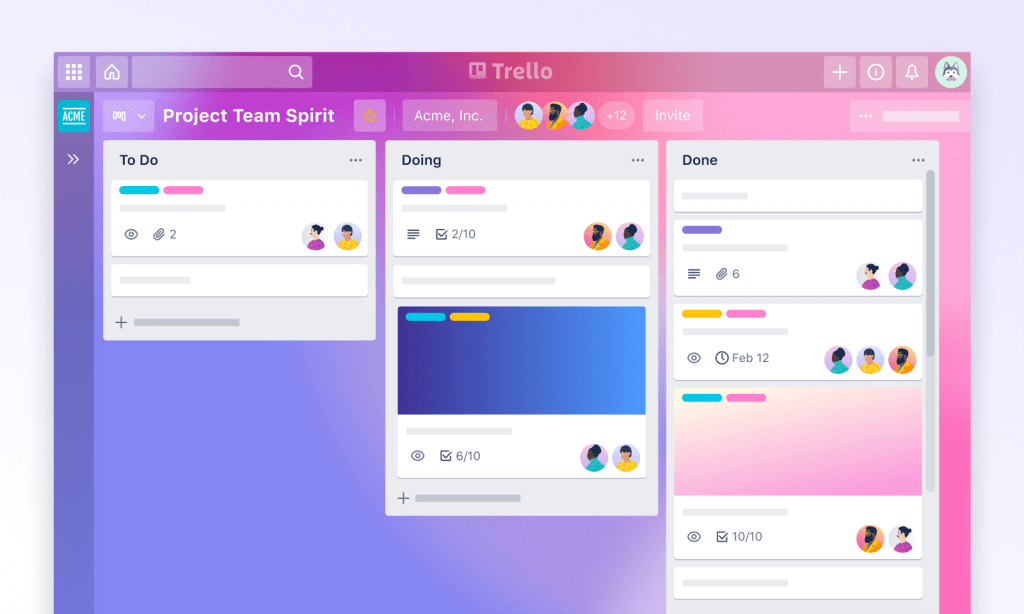 Top Features:
Large Template library
Gamification with the Todoist Karma to stay motivated and visualize your productivity.
The Tool is available in 20 different languages.
Wrapping Up
If you haven't been using a planner, we recommend trying one of these apps. They can help you become more organized, keep track of upcoming events and dates, and even help you reach your goals. If you do use an app, tell us which one! We'd love to know.
Try Akiflow now for a

10x productivity boost