Imagine going through every day without enough time to finish everything on your to-do list. Does this ring a bell? Unfortunately, this is a common recurrence for most people. Interestingly, there is enough time, but you didn't block it. 
If you don't schedule time for essential duties, you risk not getting important work done. A time blocking app like Akiflow helps you focus on high-priority tasks without being pulled in other directions or distracted. 
Time blocking helps you put your tasks and calendar on the same platform. This way, you'll find it easy to schedule your activities. This article explains all you need to know about time blocking. 
We'll explain the features of this concept and the best way to block time. Additionally, we'll review the best time blocking apps. So, without further ado, let's begin.
What is time blocking?
Time blocking is a time management technique to help you prioritize your tasks and make the most of your day. First, you have to define each time frame for an activity, event, or study, then reserve this time slot in your calendar. Once you complete the work in a time block, you can move on to the next block.
When you pick a time slot, you get to determine the length of each task. For example, you can choose to spend 10 minutes responding to emails and five hours for the next time block; there are no rules about how much time you can block.
Elon Musk is a great example of someone who efficiently used the time blocking technique. He chose to work in 5-minute time blocks when he was the acting chairman of SpaceX and Tesla. By blocking time, he could successfully run both companies, keep up his fitness goals, and spend time with his kids. 
Time blocking can improve your productivity
Mental energy is finite, and it's essential to make sure that you're managing your time and personal activities in a way that will help you maintain a mental balance, allowing you to focus on work and have more energy for your personal life.
When choosing what to do each day, we're usually not very realistic about how much work we can accomplish. Without a well-thought-out schedule or calendar, our productivity can decrease even more.
Time blocking is an essential tool to help us focus on one task at a time, eliminate any distractions and be mindful of how we use our time. When done correctly, time blocking can help you to schedule some free time, reducing the chance of burnout.
At its best, it doesn't only help you get your job done but also enables you to find the time for personal activities. It's not just about methodology or calendars. It's about making a personal choice on what is a priority and what keeps one's personal life in balance.
The main benefits of time blocking are:
A guide during the day. When you have a scheduled time for a particular task, you won't have to spend much time thinking of what to do next.
Deep work. Setting aside a specific amount of time during working hours and sticking to it will keep you from getting distracted by other things.
Focus on priorities. By listing all of your tasks in a way that marks both priority and time commitment, you can always find the time you need to focus on the most important things.
What are the benefits of using a time blocking system?
An obvious benefit of using an app for time blocking is that it saves you from wasting your time. Below is a preview of what you can expect when you start blocking tasks using a time blocking app.
It will help you focus on priorities: Once you start scheduling your tasks, you can block the hours that you feel most focused on your essential tasks. If you find that you're most focused on your activities in the morning, blocking those hours will help you avoid distractions and maintain focus on what's truly important and urgent. 
It prevents procrastination: When you schedule a task in your calendar and complete it within the start and end times, you'll be less likely to procrastinate or get distracted by other activities. 
It makes achieving tasks realistic: Making plans to finish a project within a few hours is optimistic. However, writing down this task in your schedule and blocking out certain hours to attend to it makes the task achievable.
It helps you keep a record of how you spend time: A time blocking tool will help you record how you spend your time. For example, you'll learn how much time you spend on emails, drafting proposals, hanging them out with friends, administrative work, etc. It is a reminder of your accomplishment and allows you to rethink your schedule when necessary.
It helps you create time for everything: If you don't think you have enough personal time each day, you can block out time for it. For example, if you have an important family event, you can block out that time in advance, so you don't have any excuse for not attending. This is one of the top perks of using a time blocking app; you can also save time for relaxation, family, and friends. 
How to choose the best time blocking tool
There is no secret to time blocking, you can do it on a paper planner, old-school calendar, or even a notepad. However, specialized time blocking apps make the process much easier.
When choosing the best time blocking tool for your needs, you should consider the following:
Compatibility with your digital calendar. The ability to sync a calendar with a time blocking planner saves time and guarantees more accurate schedules.
Interface and navigation. Some applications are difficult to understand how to use and have a longer learning curve. So an intuitive and straightforward design is a must.
Combined task list and calendar. You don't want to keep juggling between apps to find your tasks and plan them in the calendar. The best time blocking app will have both features combined and arranged to make daily planning easy and quick.
Integration with other applications. Besides connecting your time blocking app with your digital calendar, you may want to look for options that offer integrations with several other apps to pull all your tasks into one unified inbox.
The feature checklist for the best time blocking app:
Displays your calendar and tasks all in one location.
Has a drag-and-drop feature for moving things to the calendar and blocking time.
It has an uncomplicated interface that allows you to rapidly add tasks.
Allows you to group related tasks together.
Offers a focus mode to prevent multitasking and context switching.
It works with your current calendar app and other productivity software.
Now that you know the features to look for, let's look at the finest time blocking applications and what they have to offer.
5 best time blocking apps 
Time management is easy, and using a time blocking planner helps to simplify the process even further. With the best app for time blocking, you'll be sure to minimize mistakes. This section will explore the five best time blocking apps.
Akiflow is a great time blocking app with many features to ensure excellent time management. With Akiflow, you can block out time for deep work, and it allows you to track the time you're spending on scheduled blocks while you're working. In addition, Akiflow offers you tools that enable you to log in your activities, meetings, tasks, notes, etc. 
The software allows you to create categories for similar tasks, and you can compare the time you need to complete each task and your estimation. It is a great time blocking tool for Mac and Windows as it provides you with reports that help analyze the time spent on projects. In addition, to ensure you don't miss out on scheduled tasks, Akiflow sends you notification reminders.
The Akiflow calendar view also allows you to see overlapping tasks so you can prioritize accordingly. It's also integrable with many apps to ensure you track time effortlessly. 
Further, Akiflow allows you to share your availability with other people without switching from the app to your calendar. Its integration with Google Calendar makes this process seamless.
Another time blocking system for Mac, Android, iOS, and Windows is Sunsama. This software is relatively easy to use and offers a task list you can sort by dates. It also provides a sidebar with a calendar, although you can flip it. You can easily drag tasks to block time with Google and Outlook calendar integration. 
Sunsama helps you plan your day by asking about the tasks you have to work on and how long they'll take once you log in in the morning. It makes the blocking time process relatively easy for you. 
This time blocking app is a great productivity app for small businesses. If you want to be able to monitor how you spend time compared to our initial estimate, HourStack makes it easy. 
Whenever you're ready to start blocking time, all you have to do is click the start button to begin the time. You can always roll an uncompleted task over if you want to work on it later. 
HourStack offers integration with Google and Outlook calendars. However, it doesn't pull events from Outlook and Google Calendar to the HourStack calendar. Instead, the calendars are available at the side of the screen, and you can drag events from each calendar to the HourStack to block off time. 
Google Calendar is a classic calendar app that you can use for time blocking. It is amongst the best calendar apps for boosting productivity. Google calendar allows you to schedule events and tasks in visual time blocks. 
Each entry into your calendar serves as a time block, and you can set reminders so you don't miss out on a time block. It is compatible with iOS, Chrome, Web, Android, and Firefox.
With Google Calendar, you can plan different periods of focused times and create other color-coded calendars for various parts of your life. For example, you can schedule meetings with groups and teams worldwide. You can also define your work hours, so other people know when you're available. 
This is an all-inclusive task manager with all the features of a time blocking software, reminder, and classic calendar. You can easily plan and implement your time blocking schedule using Any.do as well as collaborate with teammates on a joint time blocking system.
With Any.do, you can prioritize tasks and organize them into a list. The app also allows you to manage shared projects and define recurring assignments, so you don't have to set them daily.
How to time block your tasks
Whether you're looking for the best time blocking app for freelancers or remote work, knowing how to time block your tasks will improve productivity. Below are four crucial time blocking steps you should take.
1. Plan everything
The initial step to take is planning everything. First, brainstorm all the tasks you have to work on and determine what's a priority and what isn't. Then, focus on the close deadlines and limit the daily schedules to 3-5 priority tasks daily. A time management technique you can easily implement is splitting your duties into bits.
2. Define time blocks
The second step when time blocking for tasks is defining the time blocks. You have to specify the start and end times and durations. Just give the closest estimate you can think of; you don't have to know the exact amount of time a task will take.
3. Act on your schedule
After setting the time limits for your tasks, act on the schedule and follow up. Start with the first task on your time blocking app, beginning at the commencement time and stopping at the prescribed time. 
4. Test and review
Once you start working on the set time blocks, review your predictions. Then, pay close attention to the time spent on each task and revise your time block accordingly. You can use a timer in the background to determine how much time you need for recurring activities. 
How to time block in Akiflow
Akiflow makes time blocking easy! With the inbuilt time blocking feature, you can quickly grab the tasks from the inbox and plan them into the calendar. We've put together a 4 steps guide to show you why Akiflow is the best time blocking app available right now.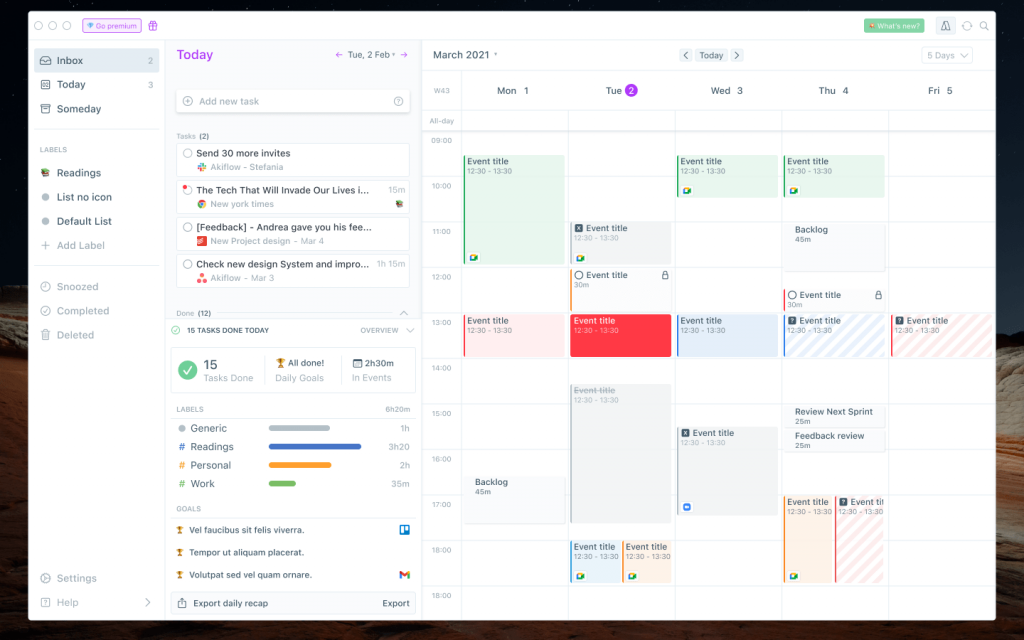 1. Analyze your calendar
Don't fall into the trap of believing that you have unlimited time on a given day. Realistically evaluate how many hours you have available each day before prioritizing your tasks. …
With Akiflow, you can import all your tasks and calendars in one single view to avoid any conflict between your events and the tasks you will plan.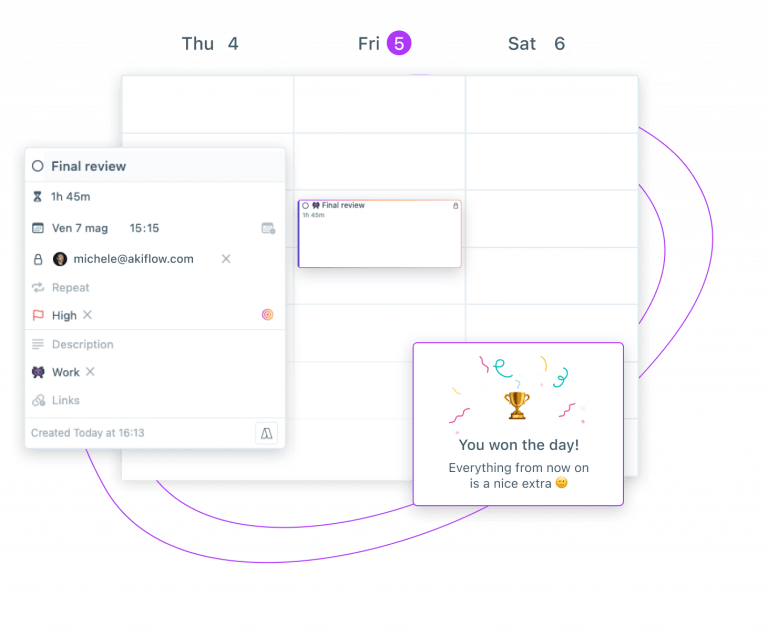 2. Prioritize your tasks
Add your priorities to the tasks in your inbox before adding them to your calendar. Using Akiflow, you can rank your tasks by priority using flags or decide which one is your goal of the day.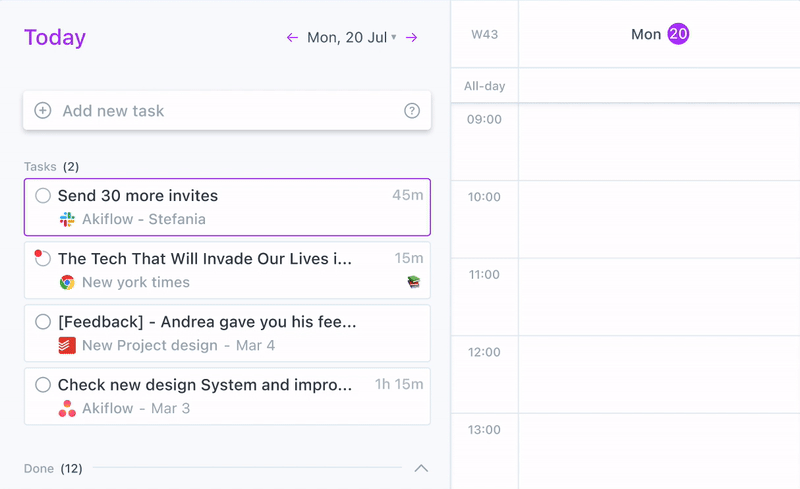 3. Create your plan for the day
It's now time to start creating time blocks for your workday. Allocating time for each task on your to-do list will help you to better organize your tasks and not be distracted by new and unimportant things. In Akiflow, you can drag and drop your tasks to the calendar.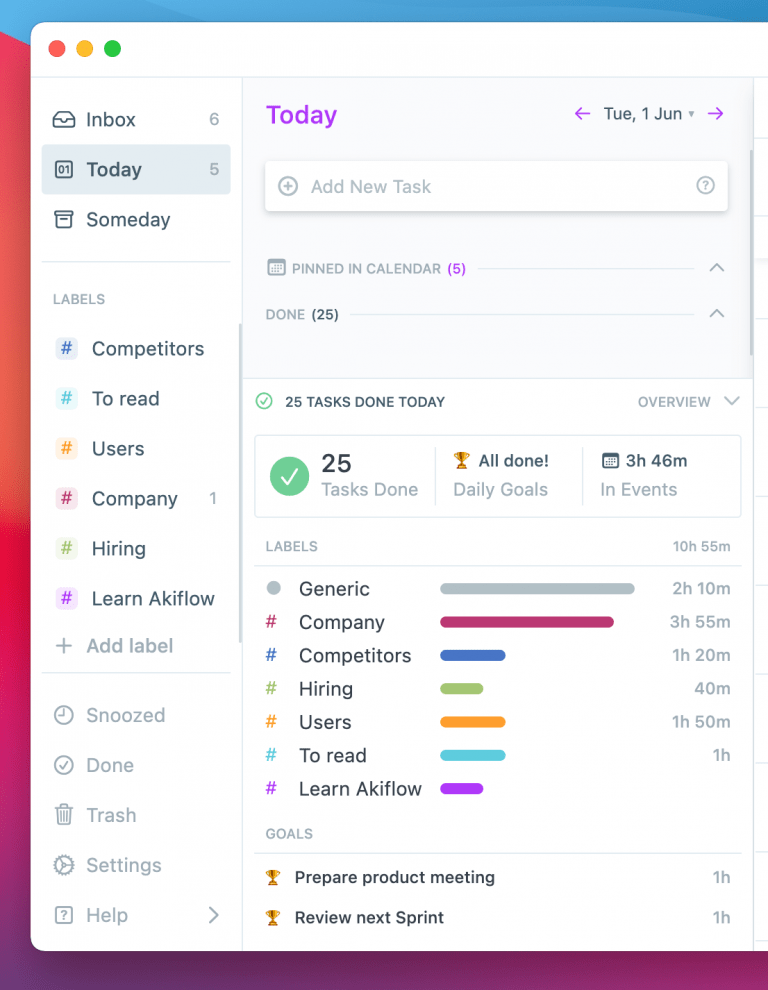 4. Review your to-do list
It's essential to use a time tracker to measure your progress periodically and update your schedule as needed. In Akiflow you can check your daily stats every day to analyze your performance and make sure you're using your time wisely.
Takeaway
There's no ideal time management technique; you need to find what works for you. However, we can all utilize technology to help plan efficiently and improve our productivity. 
Time blocking is an effective way to help streamline your goals and organize your tasks. There are many time blocking apps available, such as HourStack, Google Calendar, Any.do and Akiflow, which make it easy for you to plan your day, prioritize tasks, and review your progress.
There are just 24 hours for each passing day, and you need to know how to block time to ensure you meet all your tasks. Akiflow helps you accomplish tasks efficiently to enjoy a healthier work-life balance. Sign up today to try the app for free.
Try Akiflow now for a

10x productivity boost