14 Must-Have Productivity Apps For Small Business

Managing workflow in a small business is a challenging task when you need to handle everything with a limited team and budget. It can be a struggle to find an affordable system that offers all the features your team needs to design and maintain seamless work processes. 
To help in the quest of finding productivity and workflow management software that might be fit for your business, we have compiled a list of 14 must-have tools and mobile apps for small businesses that can assist your team in building an effective workflow and boost your company's performance.
Must-Have Productivity Apps
Source: Akiflow
Akiflow allows the users to pull tasks from other platforms and centralize them in one view, making it easier to plan and manage their schedules. The app is currently integrable with Gmail, Slack, Calendar, Zoom, Todoist, Asana, Superhuman, and many more via Zapier.
The app comes with an in-built calendar that you can use to time block tasks and events and never miss an assignment again. Further, each task created comes with the Focus Mode feature, which you can use to avoid distractions and the overwhelming feeling of looking into an endless to-do list all the time.
Pros:
All-in-one app: calendar, task manager, and time manager. 
Adds recurring tasks on every day, every week, and every month basis.
Easy-to-use interface with some personalization.
Robust navigation with incorporated shortcut keys.
Pricing:
Monthly plan: $15/user/month.
Yearly plan: $12.5/user/month.
Source: Notion
Notion is a virtual workspace befitting for teamwork synchronization plus offers features like notes taking, built-in work templates, and content calendars. Its functionality makes it easy to handle for both individual or team work, and ideal for small businesses. Also, allows you to create documents, formulate checklists, organize notes and manage various tasks or events.
Its shared workspace boosts operational transparency for each team member and makes it easily understandable by everyone, eventually attaining business goals.
Each feature comes with an entirely customizable database and UI that can be accessed from web apps on almost all platforms (macOS, windows, android, iOS, and iPadOS). 
Pros:
User-friendly interface.
In-app note-taking saves time switching to other apps.
Makes team collaboration easy.
Customizable according to distinct business needs.
Cons:
Longer setup time, especially for team collaboration.
Doc format sometimes gets disturbed while copying/pasting.
Pricing:
Personal plan: Free.
Personal pro plan: $4/user/month.
Team plan: $8/user/month.
Enterprise: Based on your business needs.
Source: Rock
Rock is a simple and intuitive messaging and team collaboration app, specially designed for remote work. It has multiple features such as instant messaging, task managing, note-taking, file creation, and also with video calling feature, a complete all-rounder.
It integrates with Google Drive, Zoom, Github, and much more via Zapier. A user can switch among spaces with a few clicks, making it easier to organize and better manage their projects.
Pros:
Intuitive interface with easy-to-use features.
Easy to communicate with teams via Zoom and Google Chat.
Transparent task and project management.
Cons:
Contact sharing is not available.
No calendar or events planning feature.
No data authentication. 
Pricing:
Basic plan: Free. 
Pro plan: $4.99/user/month.
Team plan: Based on the number of members.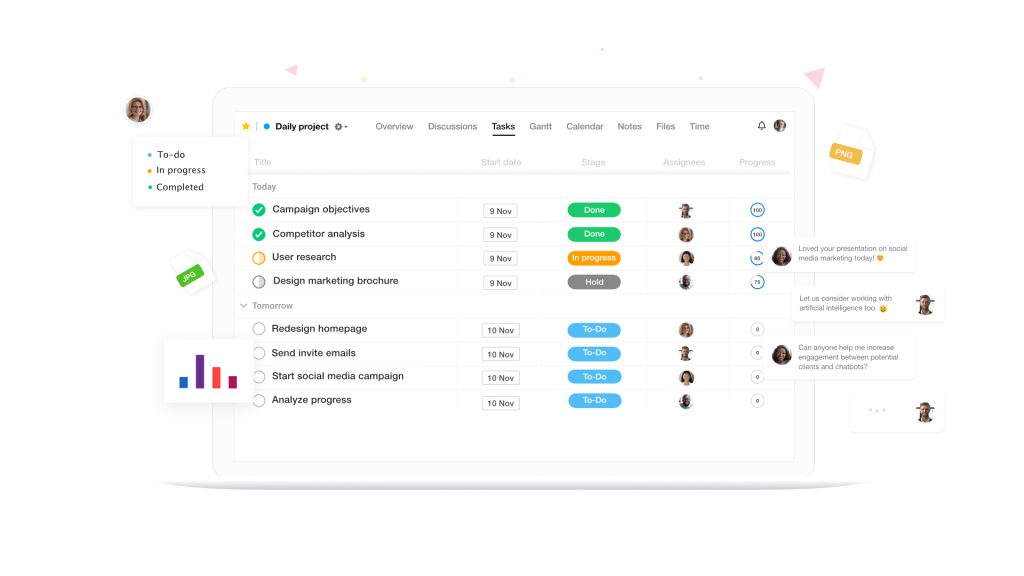 ProofHub is an all-in-one project management and team collaboration tool designed to help teams and businesses of all sizes to manage their daily workflow and maintain team productivity all from one place. You can ensure that the work is carried out smoothly, on schedule, and within your deadlines by using ProofHub.
ProofHub provides all the features you need to get your job done efficiently, from creating a project to assigning tasks, keeping track of progress, interacting with your team, and eventually delivering your projects on time. ProofHub is ideal for any organization that has teams working toward a common goal and desires to handle projects efficiently in one place. 
Right from task management, quick communication, instant collaboration, file management, approval, and proofing to project progress tracking, ProofHub puts solutions to your problems at your fingertips.
Pros
Highly customizable task dashboard
Little to no learning curve (even for non-technical users)
Instant notification for quick team communication and collaboration
Markup tools to annotate, highlight, edit, add comments, and feedback
Cons
It might not be suitable for individuals users.
The notification system can be a bit overwhelming.
Pricing
Free Trial for 14 days with all features
Essential Plan – $45 per month (billed annually)
Ultimate Control Plan – $89 per month (billed annually)
Must-Have Accounting Apps
Source: Quickbooks
With QuickBooks, you can access all key financial metrics in one main dashboard, making your business accounting quicker and more efficient. Its cloud-based features help you to access it from any browser or web app with ease.
Moreover, It's highly customizable to specific business needs such as receiving payments, reviewing status reports, receipt images, or tracking business mileage, and ideal for payroll handling. 
It also offers features like inventory management, time tracking, additional user, budgeting, and sending invoices. Quickbooks is integrable with third-party apps like Stripe and PayPal.
Pros:
Automates tasks, making accounting quick and less overwhelming.
Real-time and automatic data backup to keep users updated.
Electronic invoicing for faster payments.
The mobile app is available for both iOS and Android devices.
Cons:
Multiple businesses will need multiple subscriptions.
It can present issues when syncing with banks and credit cards.
Pricing:
Gold plan: $199/month/user.
Platinum plan: $232/month/user.
Diamond plan: $404/month/user.
Source: Wave
Wave is specially made for service-based small businesses. It handles invoice clearings without demanding to run payrolls. With Wave, you can even access entire year reports to file tax returns.
Also, tracks income and expenses, creates financial reports, invoices, and scans receipts all without any premium subscription needs. Moreover, services like customer payment processing and payroll come with a premium subscription and can be accessed with your mobile application. 
Its premium plans also provide convenient automated tax filings and payments with full-service payrolls.
Pros:
The freemium plan covers accounting, receipt scanning, and invoicing.
There is no limit on transactions or billing.
It's possible to operate multiple businesses with just one account.
No user limit.
Available on mobile.
Cons:
Not many third-party integrations are available.
High fees for ACH and credit card payments.
Full-service payroll is available only in 14 US states.
Pricing:
Basic plan: Free.
Payroll plan: $20-35/month + $6/employee.
Advisors plan: $129/month.
Source: Freshbooks
Freshbook is an accounting app that provides highly customizable invoices and pdf invoice templates. It offers customization autonomy in invoicing such as sending, receiving, printing, and paying invoices, and basic bookkeeping too.
Pros:
Being a cloud-based app makes it accessible from everywhere.
Many powerful third-party app integrations are available.
Advanced features for swift invoicing.
Cons:
Payroll service is not available.
Limited features in the mobile app.
Pricing:
Lite plan: $6/month.
Plus plan: $10/month.
Premium plan: $20/month.
Select plan: Custom pricing.
Must-Have Payment Apps For Small Business

Source: Square
Square is a POS service provider app that can help you improve your business-related transactions, by making them more quick and safe. It is a one-stop POS system, ideal for small businesses for its easy-to-navigate UI and transparent transaction fees. 
With it, now credit card payments are not confusing anymore, as Square works on a flat-rate price model that charges the same transaction fee, irrespective of brand or type of card customers use. 
If your business is seasonal then you can easily close your Square account without any penalties plus there are also no account fees so you only pay for services you use. 
Pros:
The app can process transactions even offline.
It can issue email and text receipts or print them.
Save customer card info for future use.
Cons 
Not ideal for high-risk businesses.
High pricing as your business expands.
Pricing
For sales: Free
For restaurants: Free, $60 or $299/month (depends on the business scale).
For Retails: Free, $60 or $299/month (depends on the business needs).
Appointments: Free (for individuals), $50/month (2-5 staff members), $90/month (6-10 staff members). 
Source: Venmo
Venmo, with 80 million users worldwide, is a trusted app, that allows you to send money from your card or bank account, and without any transaction fee. With the app, you can send or request money from anyone with an account.
Having PayPal as a parent company, Venmo is now accepted for payments at all places where PayPal works. It also allows you and your customer to track their payment status. 
When customers pay for your business using Venmo, all of their contacts get notified that they support and like your business, which is more impactful than any word of mouth. 
Pros:
Operable on smartphones and specially made for it.
Allows customers to split their bills.
Instant and safe transfer.
Digital wallet for users.
Cons:
Can only make payments via mobile.
3% transaction fee when paying using a credit card.
Users can only send $250/week or receive $1000/month without verification.
Pricing:
Free to use and download with transaction fees. 
Source: Melio
Melio is a web-based POS system that allows you to make payments swiftly via bank transfer or debit card without any hidden transfer fees, but only available for small US-based businesses.
It allows you to access your account from any device, perfect for small business operations that can't afford to spend much on costly POS software. Its payment scheduling features can help you reduce your stress by cutting worries about late or early payments trouble.
Its payment approval Workflow, allows you to hire a new user or accountant to work on the platform while only giving you supreme authority over transactions approval. 
Also, It allows you to upload files, capture images of invoices, and fill details manually or automatically. 
Pros:
Complete a transaction in just 30 minutes.
Supported by all US banks.
Intuitive and easy to use.
Cons:
Federal Deposit Insurance Corporation (FDIC) insurance is not supported.
Fee charged for instant transfer.
Not completely secure payments gateway.
Pricing:
No usage fee (transfer fee do charge).
Must-Have Apps For Customer Relationship Management
Source: Salesmachine
Salesmachine automates your workflow and provides a seamless customer support system, preventing churn to procure lasting customer relationships. With this app, you can track customer health scores and plant strategies according to the result. 
Moreover, you can easily create custom workflows to address to-do lists, emails, tasks, and event notifications. It also allows team collaboration to strategize various operations and offer effective communication over needed workflow modifications.
Pros:
Account-based interaction as per customer segmentation.
Formulates customer lifecycle to increase adoption. 
Automated playbook to soothe customer adoption.
Intuitive interface and real-time access to data and metrics.
Cons: 
The interface can be overwhelming for smooth navigation.
Prices are high compared to other software.
Pricing:
Start plan: $75/month
Grow plan: $150/month
Scale plan: Custom pricing.
Source: Zendesk
Zendesk is a cloud-based CRM platform to help small businesses; with its ease of third-party app integration, it is easily customizable to fit any workflow. 
It offers a centralized view of numerous data and analytics through its KPIs dashboards. Further, you can easily integrate with other apps like calendar, email, and your social platforms. It also presents in-app messaging that helps users to deal with various situations in real-time and handles them with real quick and proactive solutions.
Pros:
Provides data-rich insights into customer analysis.
Comes with customer segmentation to serve individualized needs.
Real-time access to customer data and metrics.
Proactive 360-degree feedback system.
Cons:
A free version is not available.
Shortage of marketing tools.
Pricing:
For team: $19/user/month.
For professional: $49/user/month.
For enterprise: $99/user/month.

Source: SmartKarrot
With its comprehensive and spontaneous abilities, you can automate your entire CS process from onboarding to advocacy. It's specially made for growing businesses with customer-centric purposes to achieve.
It can predict further customer stages and formulate individualized guidance through data analysis based on account segmentation. 
Further, it helps to track customer health and prevent possible churns through product usage analysis to again revive account usage.
Pros: 
Triggers personalized interaction with the target audience.
Easy customization with in-survey and insights.
Avails regular workshops to understand software updates and features.
Cons:
Low compatibility to integrate with other apps.
Needs proper training to navigate.
Pricing: 
Starter plan: $9999/year. 
Pro plan: Custom pricing.
Growth plan: Custom pricing.
Enterprise plan: Custom pricing.
EngageBay is an all-in-one marketing, sales, and customer support software designed for small businesses and startups. It offers automation and workflows to help your team offer exceptional customer service efficiently. 
With EngageBay, you can launch omnichannel marketing campaigns, personalize your emails, and track visitors across your website. Plus, sales reps can manage sales pipelines, schedule appointments, and streamline their tasks – all from one place. 
Pros:
An all-in-one CRM that offers a 360-degree view of your customers
Free CRM
Powerful web analytics
Integrated live chat and helpdesk
Multistep visual workflows for automation
Cons:
There are not enough integrations compared to competitors, though EngageBay is adding more regularly. 
No SEO optimization yet.
Pricing:
Free plan: $0/month
Basic plan: $14.99/month
Growth plan: $49.99/month
Pro plan: $99.99/month
Wrapping Up
As a small business founder, you're constantly hunting for budget-friendly apps to run your operations. We understand you, and this is why we came up with great apps to solve every aspect of your business needs. Make sure while choosing an app for your small business that it is easily adaptable by your team and makes operation faster with minimal directions. But we can make the productivity part easier for you with one tool that is home to all of the tools you use to handle your business. Akiflow — a productivity software that concentrates all your tasks in one place. Try it for seven days and experience a transformation in your daily workflow.
Try Akiflow now for a

10x productivity boost