This year was filled with many accomplishments and progress. To end 2022 on the highest of notes, we present you our biggest release so far: Akiflow's web app!
We know that many of you prefer web apps, and we wanted to make sure you had the same speed and experience with Akiflow in your browser as you do with the desktop app. This improvement was on our roadmap for a while, and we spent months carefully building it.
The web version is still in its early stages, so you might miss a few features that are only available on the desktop app, such as:
🔔 Notifications;
⌨️ Accessing the command bar from everywhere;
📸 Capturing web pages as tasks;
💻 Seeing your day at a glance with the Tray Menu;
Connecting your Gmail account to import your emails as tasks.
Shortcuts also have a few limitations, and you won't be able to use the following:
📃 Your custom shortcut to Show or Hide Akiflow;
🗓️ Ctrl + T to Go Back to Today while navigating the calendar;
🔗 Pressing O on a selected task will open only the first link, not all of them.
While improvements for the web app are on the way, you can already use it to plan your days with time blocking via the browser. We're excited about this milestone and hoping for your feedback on it!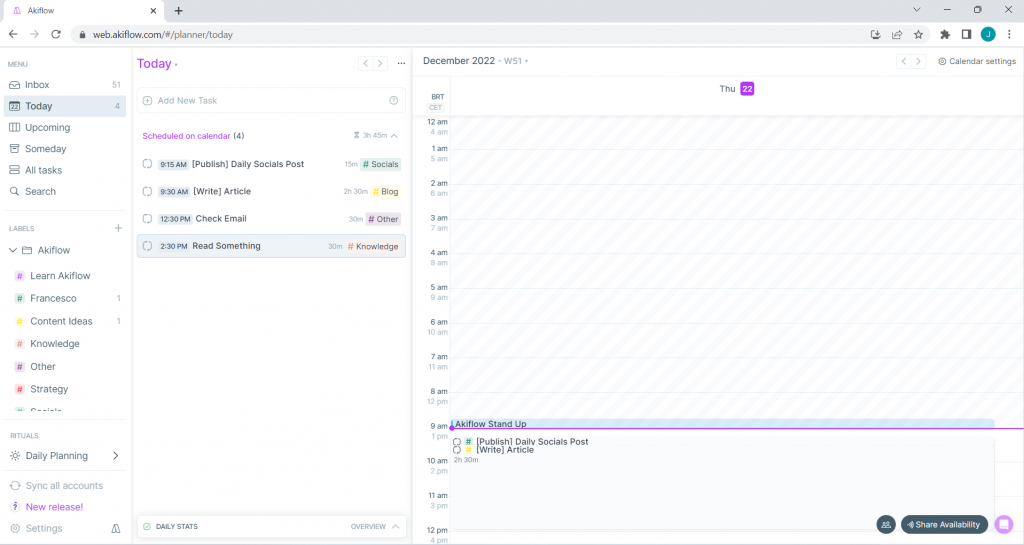 Additional updates
🔁 Asana 2-way sync: This latest release also presents the new Asana integration! In a series of improving our current integration and bringing new ones, our Asana integration now has a 2-way sync, meaning that all changes made in Akiflow will be reflected in Asana and vice-versa.
📲 Mobile app open beta: Our mobile app is officially available for everyone, in beta testing. After a few months of being explored by select beta testers, it is now ready for a new phase of testing before the stable version's release.
Download the beta mobile app here: [link]
2022 was a great year, and we're enthusiastic about 2023. Thank you for being part of Akiflow's journey.
Happy Holidays to everyone!
Try Akiflow now for a

10x productivity boost