5 Apps To Overcome The Challenges of Hybrid Working

With changing demands in the work environment due to various factors; many organizations find it challenging to integrate new working scenarios into their business operations, ultimately hindering productivity.
So, It's important to understand hybrid working— under this model employees get flexibility in terms of working location and a certain number of working days per week in office space.
Most organizations that hire talents globally are bending towards an advanced workflow method rather than sticking to rigid norms of pre-pandemic companies' culture. And, employees are demanding something differently— as Zippia research says that 55% of employees' expectations of working flexibility have increased, and they want to operate at least three days a week remotely. 
Moreover, companies are also observing an increased momentum in the working model, and undoubtedly hybrid working is here to stay.
So, in this blog, we intend to talk about;
Benefits of hybrid working models
Challenges in hybrid working 
Five best tools for hybrid working
The Challenges Of Hybrid Working
Virtual relationship building
Humans are social creatures who like to interact with new surroundings and people outside their premises, which is hard to do virtually. 
Trust building and operational synchronization among employees are missing as they can't interact much, and their relationship stops at the point of coworkers or virtual friends at most. 
Additionally, remote work without any formal working environment can make the employee tolerant towards work, more stressed, and unorganized. 
But, you can easily avoid this situation by planning occasional parties and team diners to ease up the conversation. For example, when a recruit joins the company, you can plan a party or a meet and greet session that allows everyone to know each other from time to time.
And the ultimate flexibility of hybrid working allows employees to gather in coworking spaces and also at home. Such a freedom encourages employees to form a deeper bond with their co-workers and friends. 
This will also maintain and promote your working culture across other potential employees.
Remote communication 
Certainly, you cannot expect everyone to be glued to their computer screens all the time when they're home but this also creates a communication gap among employees. 
But in a hybrid working team, the term flexible can mean multiple things for the employees. For one it can be choosing Monday and Tuesday as working from the office and rest from home and for others, it can be Friday and Saturday.
But every member does have the flexibility to work whenever they feel like working and think they can bring the most out of them—but setting up defined rules even for hybrid remote workers to keep the flow disciplined and smooth.
So let's say your company has set policies as Monday, Tuesday and Wednesday as fixed days for working from the office. You can schedule the tasks or meetings that need everyone's presence on these days. And the remaining days employees can focus on working.
Lack of leadership
Hybrid working conditions were the invention born out of necessity called pandemic. But implementing it after the cooldown is not well appreciated by employers. 
The workers familiar with vintage office work find it hard to keep up with this new work model. Moreover, workers now might have to work more than they used to in offices, and the well-defined set of rules and accountability to review the working hours are not in place.
This all happens because of a lack of supervision and proper leadership, which is a must for workflow optimization. 
Proper leadership involves valuing every worker's contribution and making them feel heard that boosts their morale. Establishing different communication channels, assigning them targets to achieve, and proper work discussions are effective.
Further, conducting meetings with the whole team and discussions about current and future projects while giving them a part in decision making brings workflow transparency that turbo drives retention rates.
The Benefits of Hybrid Working
Hybrid working model is growing globally because of the flexibility it has to offer to employees and employers both. But few of them know about the benefits that await for them next to those challenges.
Empowered employees
Most people assume that embracing the new hybrid working culture even after the pandemic can contribute to the decreased productivity among employees. And this ultimately be the reason for decline in organization's growth. 
According to Deloitte's recent study, 55% of workers have reported that their co-workers are now more productive than before lockdown. And most of them were also dealing with— pandemic stress, uncertainty, and other mental factors.
However, hybrid working practically enhances the work experience by empowering remote workers' creativity. It enables deep-focused working to push employees cognitive capabilities and facilitates productivity. 
Unlike employees who work from office space and often get affected by work chatter or other distractions. 
Wider talent pool
The hybrid working model enables the HR department to hire talents globally and locally, expanding the companies' talent pool. 
Now the employees living in different time zones can collaborate more effectively. Furthermore, it helps the organizations to fill vacancies of needed skill-sets.
Several companies have observed an average 12% reduction in turnover when they allow their employees to do remote work.
Giving your employees a choice to work remotely boosts employees' morale while decreasing turnovers rates. Further, it engages new talent, which is crucial when hiring skills that can dent your budget. 
So hybrid working covers all aspects from attracting new talent and then switching them to pursue an on-site career, making workflow seamless.
Agile workforce
54% of employees have mentioned they'd leave their current job for one that provides more flexibility. As hybrid working gives the best of two worlds, it expands the number of modes of working that are crucial to innovation. 
But you cannot achieve an agile workflow instantly as on-site employees are not equally flexible as other employees. 
Hybrid working provides more freedom and autonomy to workers, bringing extended mobility in their respective operations. Moreover, it keeps the business operations more agile without directly affecting the overall productivity.
Earlier hybrid work schedules were only seen fit for software developers; however, it has been deployed by other departments too because of its efficiency. 
Contrary, a rigid workforce is heavy on your pocket with minimal innovation and a lot of carbon footprint, which is all you should avoid.
Cost-effective 
Hybrid working models help cut down the expenses of maintaining and operating offices significantly. 
As employees don't have to show up in the office every single day; It saves the cost of services such as coffee breaks, devices, security expenses, and the list goes on.
Moreover, you can invest the savings in other vital projects like infrastructure development or boosting employees' career progression.
5 Best Tools For Hybrid Working 
You cannot expect to handle multiple teams over emails or any other app to be precise. If you think of achieving certain goals for your organization, then you need an effective hybrid working tool to amp up the processes and also ease the communication.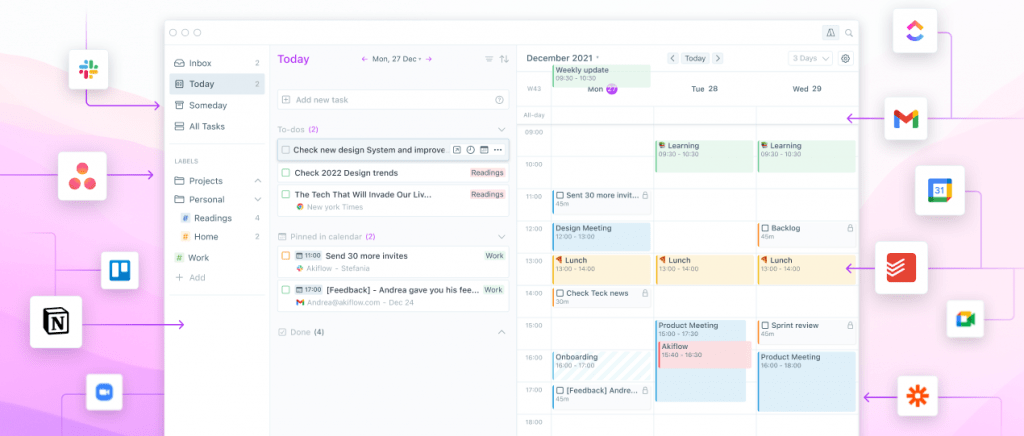 Akiflow is a dynamic tool that allows you to plan your workdays effectively. You can also integrate various apps with Akiflow that help you to stay on top of the inbox without switching on multiple apps.
And it also notifies you regarding your scheduled meetings during a busy workday. This ensures you don't forget and miss out on any crucial appointments.
Akiflow also gives you a free trial of 14 days so you don't have anything to lose.
Pricing
$15 per month 
$12.50 per month if billed annually
Pros 
Manage your day with timely scheduling
Share availability with Akiflow
No need to switch between multiple apps
Multiple views to schedule tasks
Cons
Cannot collaborate with others currently
Zoom is one of the most downloaded tools for videos and audio conferencing. With Zoom, you can have team meetings with up to 100 of your employees for free. With an immersive tool, you can provide your employees better visualization and presentation like whiteboard and screen share.
Pros
HD video conferencing with crisp, clear audio.
Stable and secure while working.
Up to 1000 participant limit on enterprises version.
Cons 
It needs heavy system requirements with a high-quality connection. 
Only 40 min meeting duration allowance on the free version.
Pricing
Zoom basic = free
Zoom pro= $14.99/month
Zoom business = $19.99/month
Zoom enterprises = $19.99/month
TeamViewer is a remote desktop access platform that can be used easily by your employees to access their desktops and work remotely. Having a team meeting from home, you can present the whole workflow to your employees with clear audio and video.  
Pros
It helps team members conduct online sessions for up to 25 members concurrently.
You can use it on Android, Linux, BlackBerry Windows, and Mac devices.
Cons
It also requires a high-speed connection, and the user often faces lag.
Don't work on proxy servers.
Other devices can't be accessed in sleep.
Pricing
Business plan = $15.90 [1 user/200 devices]
Premium plan = $102.90 [15 users/300devices] 
Corporate plan = 206.90 [30 users/ 500 devices]
Slack is a team chat application designed for remote working and operations. The feature that makes slack one of the best in its team channel lets you chat in real-time and transfer files & data with the whole team or even one individual. 
It has other features such as voice and video calling which enables quick interaction without switching to any third-party app. 
Pros
Having one shared channel with every employee saves time and effort in explaining their projects. 
It's best for urgent real-time follow-ups.
Complete security with no breach chances. 
Cons 
Notifications can be overwhelming. 
There is a limit to your store's file size, which also erases your data with time. 
Messages can be disorganized very quickly
Pricing
Free plan = $0
Standard plan = $6.67/month
Plus plan = $12.50/month
Enterprise grid = (depends on your business needs)
Google Workspace is a complete set of apps or software specially designed to handle professional business emails, documents formation and editing, calendar, and video or audio meetings. It consists of Gmail, Drive, Docs, Sheets, Slides, Forms, Calendar, Google+, Sites, Hangouts, and Keep, which you need to set up your hybrid working model. 
Pros 
It makes the data transfer easier with security.
Warns you when coming in contact with any potential data exposure threat.
Plus, It identifies any malware and spam in the workflow.
Allows to share big files and provide other members easy and quick access.
Cons
Its spreadsheets working model sometimes can be complex for a few non-tech employees.
Can cause data loss while internet disconnection during working. 
It can't work smoothly with MS office files.
Pricing
Basic plan= $6/month
Business plan = $12/month
Enterprise plan = $25/month
Try Akiflow now for a

10x productivity boost