10 Best Daily Planner Apps For 2023

As time tracking has gone digital, handling various to-do lists is an easier task to get more stuff done. Compared to scribbling down notes on paper planners manually, daily planner apps help you with enhanced planning and robustified multitasking, which make sure you stay ahead of deadlines.
However, there is a myriad of daily planner apps claiming to be the best. 
In this ocean of suggestions, how to choose an app that befits your needs and is not overwhelming for you?
Don't worry, we've done the legwork for you! In this blog, we'll cover:
Factors to consider while choosing a daily planner app
10 best daily planner apps 
Learn more: Best Calendar Apps To Boost Productivity
Factors To Consider While Choosing A Daily Planner App
Before deciding on any specific daily planner apps for your business, make sure you analyze these different factors listed below to make the best deal.
Productivity features
Your daily planner app should complement your different business operations. It must move the needle to bring you uplifted productivity for each task. And, should help you to execute deep-focused work sessions through managing notifications, reminders, and highlights of daily plans. Some of these features include focus working, categorizing tasks with labels, reminders, and progress reports.
Integrations
Another key feature you need is that your daily app planner must work with your other essential apps such as Slack, Zoom, Microsoft Teams, and more. Moreover, it should naturally fit itself into the workflow without limiting the flow of various recurring tasks.
Budget
Most of the daily app planners come with two subscription models, a free and paid version.
Usually, a free version is enough to get started. But if you need extended support in project management, create to-do lists and develop efficient scheduling with less effort. Then you should invest in a paid version to leverage its optimum benefit.
Compatibility
The last and most crucial factor you want in your daily planner is— auto-synchronizing with daily usage devices such as your laptops, computers, and smartphones. With this, you can easily access your work from anywhere without restricting to on-premise setups.
Top 10 Daily Planner Apps
So, after discussing the factors, now we have compiled a list of the top 10 best daily planner apps. Let's cover them one by one.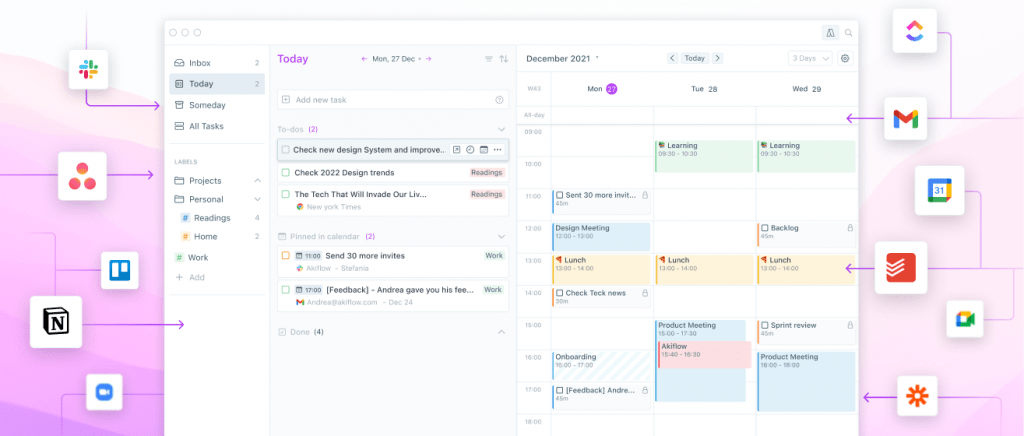 Akiflow is a tool that offers dynamic planning over various work routines to do them effectively. Its compatibility to integrate with other apps assists in quick follow-ups above each inbox without wasting time switching from one to another.
The pre-meeting notification alerts you for the upcoming meetings and makes sure you don't end up missing any necessary appointments
Best features:
Helps to access inboxes without switching apps.
Manages projects while scheduling daily tasks.
You can categorize your tasks by labeling them.
Additionally, with Akiflow you can share availability.
Pricing:
$15/person/month ($12.50/person/month if paid annually)
Any.do is a great minimalistic daily planner app with an intuitive interface.  Managing tasks is seamless and makes work fun and engaging. 
Its auto-sync features allow you to work from any device like laptops, desktops, tablets, mobile devices, and even smartwatches. So you can continue your work outside office hours without any significant effects on your productivity. It even allows real-time data sharing with the people you want to, with great security measures. 
Best features:
It supervises the team's progress, with simple metrics
Organizes tasks and meetings with ease. 
Accessible across all platforms, eliminates any blind spots in hybrid working.
Simplifying the whole workload in a sequence saves you from stressing over the deadlines.
Pricing:
Basic plan: Free
1 month: $5.99 /month
6 months: $4.49 /month
12 months: $2.99 /month
With the help of Todoist, project planning and time management are less of a headache. It makes your day-to-day operation transparent and viable, which helps to tier them according to their urgency. Moreover, it emphasizes task completion rather than just organizing which eventually delivers a significant peace of mind without breaking the productivity wave.
Also, its simple to-do list feature lets you manage sub-projects plus important reminders with due dates and later communicate them with coworkers. If you are looking for a daily planner app with advanced project management capabilities, you can opt for different Todoist alternatives such as SmartTask or Asana.
Best features:
Provides a visual interface of project progress and cuts complexities.
Brings great customization scope while keeping users' needs in mind.
The color-coded feature allows one to differentiate between several tasks and later assigns them on a priority basis.
Allot points to reward task completions.
Pricing:
Basic: Free
Premium: $3/person /month
Business: $5/person /month
Friday is a one-for-all daily task planner plus a schedule management app. Its features help you focus on one project at a time, which significantly reduces errors. Besides, It manages your meetings, tasks, and time expenditure. With the notification block option, you can now WIP(Work in peace) hence ultimate focus.
Further, it presents you with a progress report showing all your hard work and appreciates you to make you feel motivated for the upcoming busy week. Later you can share progress reports with your teams and schedule meetings to strategize on the next steps.
Best features:
High compatibility with other project management tools like Slack, Zoom, Google Meet, and Microsoft Teams.
Real-time updates to reduce time wastage in meetings to discuss progression.
Easily grants access to other team members.
Pricing:
Basic: Free
Individual pro: $4/person/month
Teams: $6/person/month
Enterprise: depends on business needs
TickTick is a daily planner app that organizes all of your routine work with a touch of creativity. It is a top-rated time management tool with millions of users around the globe. 
Its smoothness in operation can rival Any.do with minimal design, preventing you from getting distracted by gazillions of features. Further, its calendar-integrated interface makes the project's progression more visible hence easy to track.
Best features:
Classifies various to-do lists according to the projects and makes the operations simple.
Differentiate tasks on a timely basis such as daily, weekly and monthly.
Make data transfer more manageable than ever before, plus accessible across multiple devices.
A game-like eye-catchy representation of work progression to make it fun.
Pricing:
Basic: Free
Premium: $2.99/person/ month
Notion is one of the best daily planner software out there; as it provides a chart sheet representation of tasks with tons of scope for customization—Both individuals or teams can use it effectively to calm down the havoc of work deadlines. 
Its inbuilt note-taker allows you to write down notes or ideas right at the moment before you lose them in a busy schedule. 
Best features:
Smooth cross-functional collaboration among teams.
Provide a more profound and precise insight into the work process.
Help new team members or employees to adapt to the existing workflows.
Pricing:
Personal: Free
Personal Pro: $4 /month
Team: $8 /month
Enterprise: according to your business needs
As the name denotes, Evernote allows you to take notes and organize every activity from planning, scheduling, reminders, and deadlines. Plus, it enables you to make detailed notes with images, audio, video, and links. 
Now, you can create a checklist of every task and even subtask jobs to assign work to your team or employees with a defined deadline. 
Moreover, you can sync it with google calendar and get notified about upcoming projects and meetings ahead of time.
Best features:
Can make detailed notes with links and multimedia.
Comes with customized templates to complement every project.
It can assign tasks in notes with further detailed subtasks.
Allows access to your data and projects even if offline.
Can easily integrate with Slack, Microsoft Teams, and Google Calendar. 
Pricing:
Basic: free
Personal: $7.99/person/month
Professional: $9.99/person/month
Team: $14.99/person/month
It's an all-rounder daily, weekly and monthly planner for scheduling meetings and work hours. You can plan events with definite timings and get emails regarding forthcoming events.
Best features:
It allows you to start your day with a set-off email in the morning that overviews the whole day's schedule.
Regularly notifies about the upcoming meeting and pending tasks.
Plus, it organizes employees' work schedules and frequently checks status reports.
Pricing:
Basic: Free
Business version: $5 /month
Enterprise – depends on your business needs
Serene is a daily planner app designed for macOS that boosts productivity by enhancing focus. Its distraction blocking prevents any possible diversion while working, hence more output in less time.
With this app, you can start your day with a clear goal to achieve by devising a plan into small steps— as the time requirements to understand intricacies get less, you can quickly deploy real action to work.
Best features:
Website and app notification blocker eliminates apparent distractions.
Tracks entire work progression, and pending work status.
Its background music feature keeps you stimulated and focused.
And automatically silences your phone.
Pricing:
 $4/person/month(paid annually)
Trello is a project management tool used for both personalized and team projects. With the app, you can initiate any number of projects with your team and then customize tasks with various cards from the app.
Also, you can lay deadlines, add comments on ongoing projects and discuss them with your team through an in-app chatting feature.
Best features:
It allows team collaboration on ongoing project management from anywhere around the globe.
Instant messaging allows you to get real-time updates from the team and then devise the next plans concurrently.
Arranges due dates, assigns to-dos, and manages tasks.
Pricing:
Basic: Free
Business: $12.50/person/month
Enterprise: depends on your business needs
Frequently Asked Questions
How do I make a schedule for myself?
To begin with, write everything down about the priorities and highlights of your day. Then to complete various tasks choose between these time management methods—time blocking or to-do checklists. Further, create a standard operating procedure to save time from regular brainstorming before any task. Then optimize functions with the help of a daily app planner to enhance productivity around different errands.
How do you track day-to-day activities?
To track your day-to-day activities, sit down every morning and prioritize your different tasks. Then break down every job into individual chunks and tackle one at a time. For instance, when building a website, split your mission into different time frames for writing, designing, and lastly wireframing.
Does Google have a daily planner?
To plan your task with Google, you can build your customized table in the Google Docs of different jobs to get done. Apart from this, Google provides a daily planner app called 'Day by Day' for time management designed to sync with Google Calendar and Google tasks for Android and tablets.
Wrapping Up 
The biggest challenge everyone faces while planning is they end up setting unrealistic targets, which creates a pinfall of tasks to spill over to the next day. And, then it triggers off a loop of incomplete targets which leads to a daunting unproductive day.
But, a daily planner app provides a visual presentation of your to-dos that allows you to trade off follow-ups, way better than recalling tasks in mind or losing track of paper planners. Here you can easily integrate Akiflow as a versatile and powerful tool yet not so overwhelming to schedule the day.
Try Akiflow now for a

10x productivity boost