Survey Results: How Akiflow Users Are Managing Work-Life Balance and Stress in 2023

Introduction
Are you feeling the strain of balancing work and life in 2023? You're not alone. With the world constantly changing and new pressures mounting, managing stress and achieving work-life balance has become an ongoing challenge for many. Akiflow surveyed its top users to find out how they're handling the demands of work and life. The results are both surprising and inspiring, revealing various conventional and innovative strategies and techniques that are helping people stay on top of their game. So, whether you're a busy founder or a parent juggling multiple responsibilities, read on to find out more about the survey and discover what others are doing to manage work-life balance and stress.
About the Survey
The survey was conducted by Akiflow in 2023. Akiflow is the ultimate time-blocking platform. It presents your tasks and calendar in a single view, automatically collects your tasks from multiple platforms in one place, and helps you turn your emails into tasks and more. You can start your free Akiflow trial today by clicking here.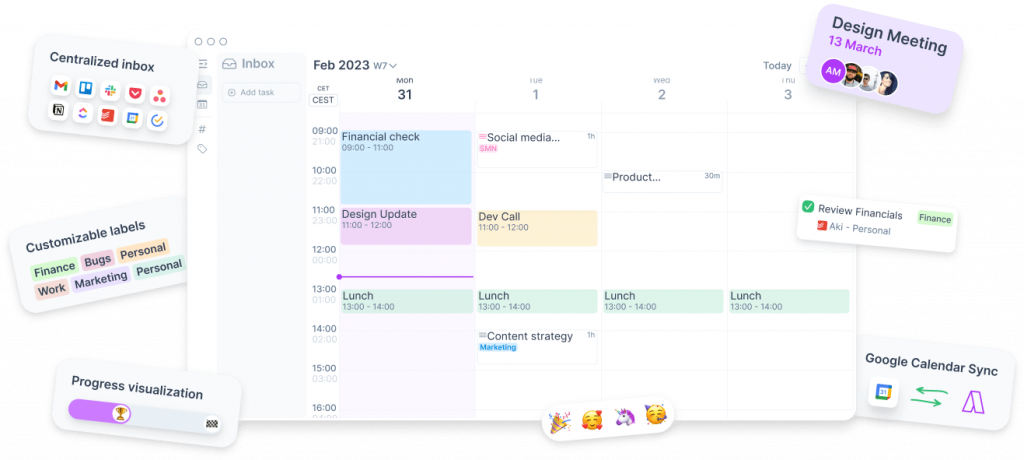 Among other facets, the survey explored users' demographics, stress levels, and work-life balance. More than 100 Akiflow users responded to the survey. We noted that a majority of them were founders and freelancers. Most of the respondents were employed full-time and were married.
Survey Insights
The survey provided valuable insights, and we're excited to share the results with you, and we hope they will motivate you to take a keener look at your routines and strategies.
Beat stress: exercise, meditate and connect
Balancing act: 43.7% of respondents are satisfied with their work-life balance, but there is scope for improvement
Juggling work and life: top strategies revealed
Managing work and family: working from home helps
1. Beat stress: exercise, meditate and connect
Experiencing stress is common for many people. 37.9% of the respondents reported experiencing moderate stress levels in their daily lives. It's not surprising that our users are feeling the pressure – many are entrepreneurs, freelancers, or employed in demanding roles that require long hours, multi-tasking, and high levels of responsibility.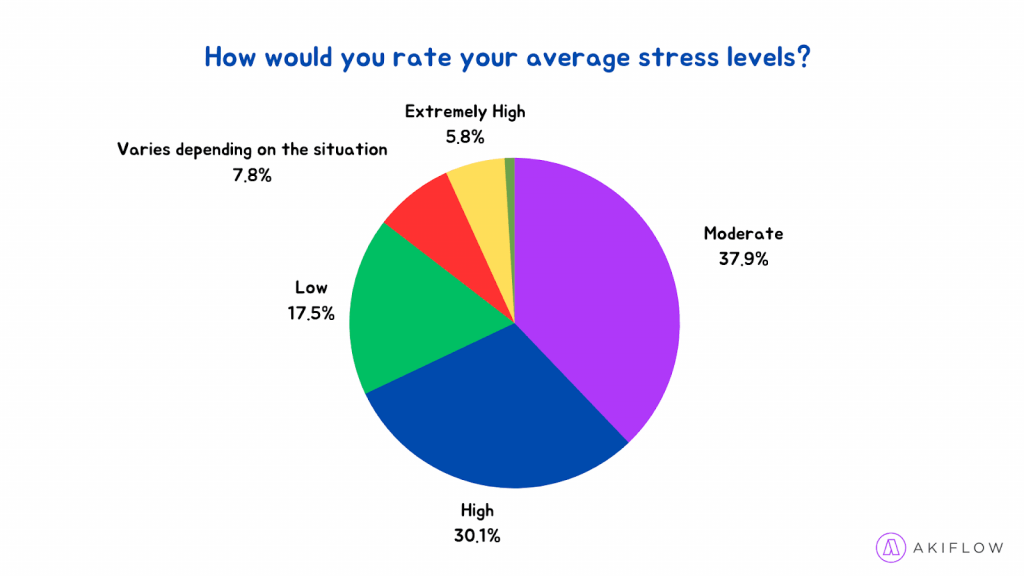 By acknowledging the prevalence of stress and the unique challenges individuals face in demanding roles, effective strategies can be adopted to promote greater well-being. In our survey, respondents were asked to identify how they typically handle stress. They were asked to select as many options as were applicable to their case. The results showed that various coping mechanisms were utilized, with exercise/physical activity, meditation/ mindfulness practices, and talking to someone being the most commonly selected responses.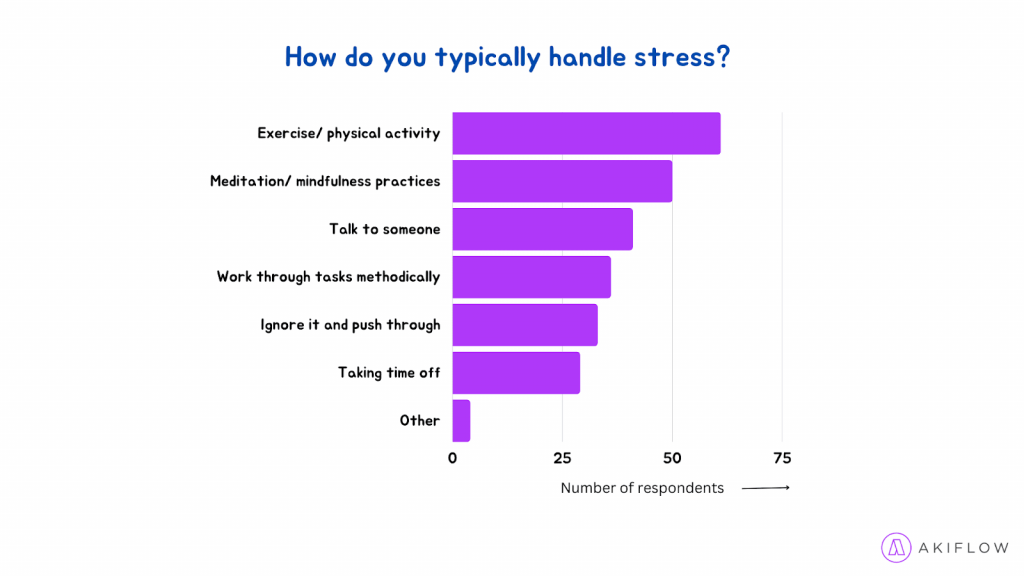 Engaging in physical activity is a popular stress-relief technique as it helps release endorphins that improve mood and distracts from stressors. Meditation and mindfulness practices, on the other hand, help individuals to focus on the present and develop a sense of inner calm and relaxation. Talking to someone is another effective way to manage stress, as it provides an opportunity to share thoughts and feelings, gain perspective, and receive emotional support. These results highlight the importance of adopting multiple coping strategies to manage stress and improve overall well-being effectively.
2. Balancing act: 43.7% of respondents are satisfied with their work-life balance, but there is scope for improvement
Work-life balance involves finding a healthy and sustainable balance between work responsibilities and personal priorities such as family, friends, hobbies, and self-care. 
The survey asked the respondents how they felt about their current work-life balance. 43.7% of the respondents said that it is satisfactory but could improve. 29.1% of the respondents said that they prioritize work over personal life. Our desire to succeed at work can push us to set aside our well-being.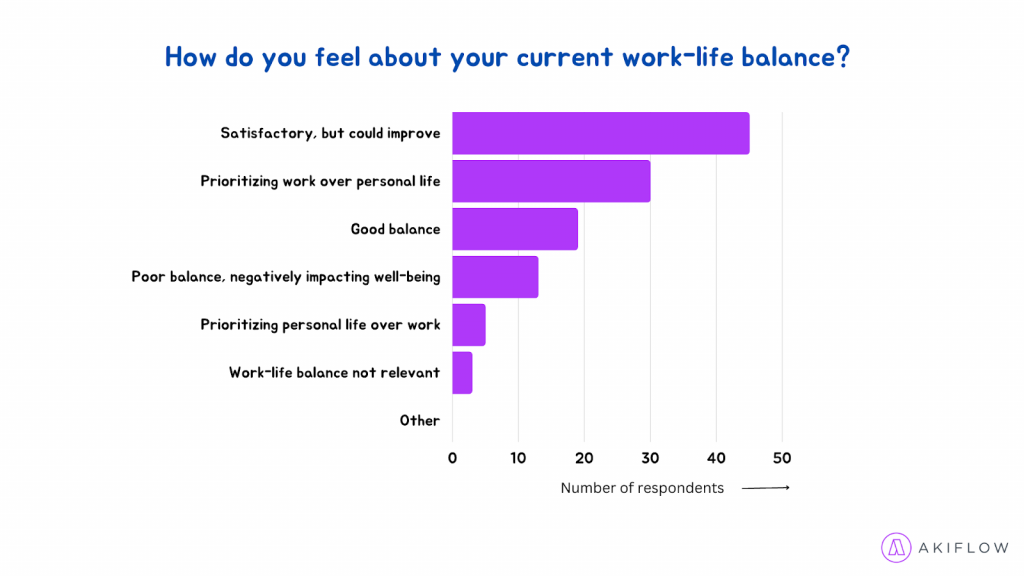 Work-life balance is essential for maintaining good health, productivity, and personal fulfillment. It is important to recognize these benefits of balance, and it is reassuring to note that our users are taking proactive steps to achieve it in their own lives.
3. Juggling work and life: top strategies revealed
Attaining work-life balance can be challenging, and the survey results reveal that most respondents are actively seeking ways to improve this balance. The survey asked respondents to select strategies they use to balance work and personal life, and the results showed a diverse range of approaches. The most commonly selected responses were time management strategies, blending work and personal life, and setting boundaries and limits.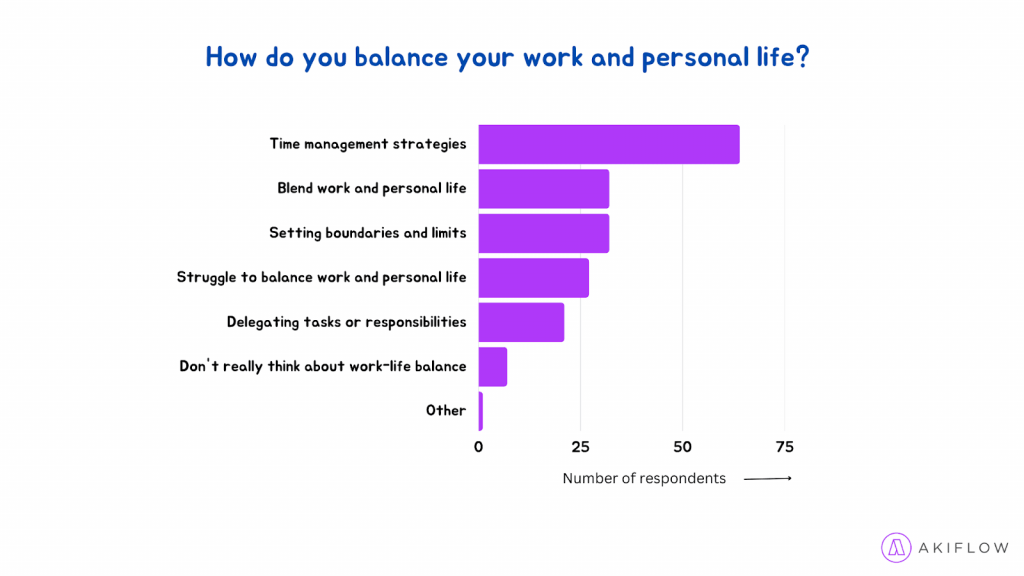 Time management strategies such as prioritizing tasks, creating a schedule, time-blocking, and avoiding multi-tasking can help individuals stay organized and reduce stress. Akiflow is a time-blocking platform where you can lock time slots for your tasks and use Focus Mode to avoid multi-tasking and distractions. In fact, many of the survey respondents said that Akiflow is their favorite productivity tool. Additionally, blending work and personal life by incorporating personal tasks into work hours or vice versa can allow individuals to manage both aspects of their lives without giving up one for the other. Finally, setting boundaries and limits, such as disconnecting from work during personal time, taking regular breaks, and setting achievable goals, can help individuals maintain a healthy work-life balance.
4. Managing work and family: working from home helps
With a majority of our respondents being married, the survey asked them how they were balancing work life with family responsibilities. The most commonly selected responses were:
Working from home, alternately having flexible work hours
Prioritizing work and family schedules carefully
Having a partner who shares the responsibilities 
For most respondents, being able to hire outside help, having friends/ family support, and taking advantage of company benefits was not an option.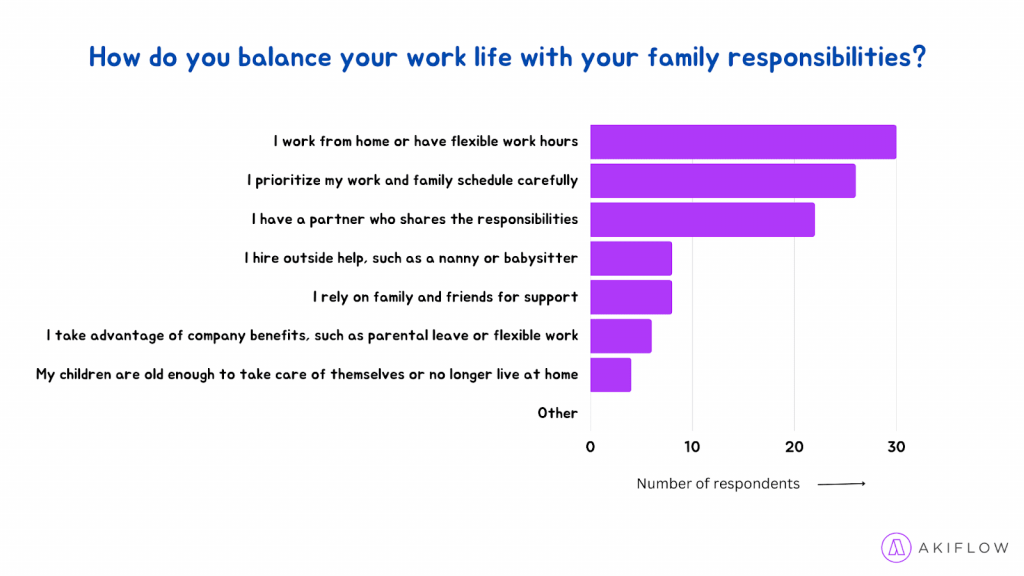 At the organizational level, it is of utmost importance to create more supportive policies and programs that can assist individuals in balancing their work and family life. Organizations could consider implementing flexible work arrangements that permit employees to work from home and/or have flexible work hours. 
For individuals, setting clear boundaries between work and family time and finding ways to prioritize and balance both can be helpful. Having a supportive partner who shares responsibilities can greatly assist couples in managing work and family commitments. Couples could consider openly communicating about their respective roles and responsibilities and finding ways to help each other.
Conclusion
The results of the Akiflow survey provide valuable insights into how users are managing work-life balance and stress in 2023. The survey revealed that many respondents have found traditional and innovative strategies to help them stay on top of their game despite the ongoing challenges and pressures. Respondents shared various approaches that have helped them balance work and life demands, from exercising and meditating to working from home and prioritizing their schedules. While there is still scope for improvement, the survey provides inspiration and guidance for individuals looking to optimize their routines and achieve greater balance and well-being in their lives. Ultimately, the survey underscores the importance of prioritizing self-care and finding effective ways to manage work and family life pressures in a rapidly changing world.
Try Akiflow now for a

10x productivity boost