The ADHD-Friendly Productivity tool
We understand the challenges of staying productive when you have ADHD, Akiflow is packed with features that will help you. No more distractions, no more jumping between apps - just clear, focused productivity.
Professionals worldwide stay focused, organized, and super productive with Akiflow
Universal Inbox
Goodbye to the overwhelming feeling of managing multiple apps!
No more wasted time or energy switching between multiple platforms. Your new universal inbox makes it simple to import all your tasks from various apps into one easy-to-manage space.
Discover more
Time Blocking app
Block time
for your tasks
Take control of your day and get things done, without feeling overwhelmed or stressed. Say goodbye to scattered thoughts and hello to a more productive, ADHD-friendly approach to getting things done.
Never forget a task or event again
Enjoy personalized reminders and notifications that keep you on track and focused throughout the day. Our ADHD-friendly design helps you stay organized, so you can achieve your goals with ease.
Go to the
next level


with powerful features
Quick task actions
Prioritise, Plan and Snooze with keyboard shortcuts.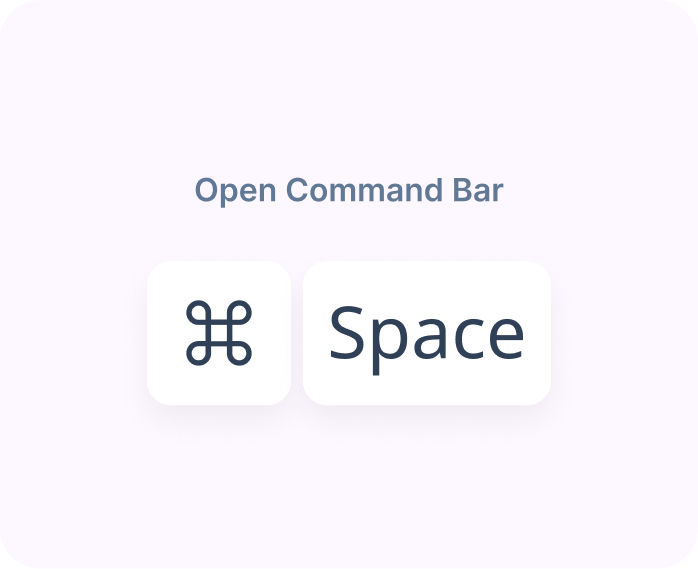 Smart Labels
Custom labels to organize your work the way it feels right for you.
Easy to add, they help you have a visually clear view of your day.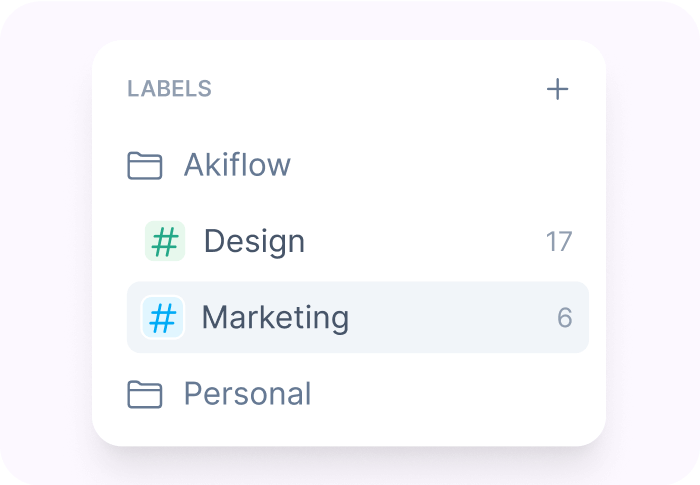 Time Slots
Make slots for various activities like Product Review, Customer Support etc, and then, fill those slots with tasks and take control of your day.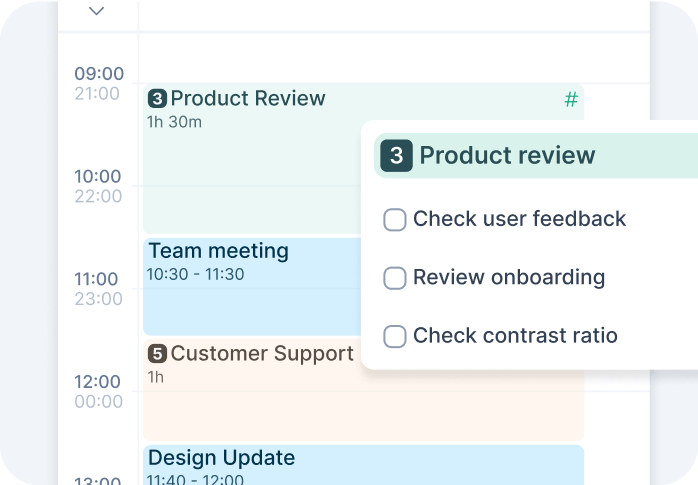 Upcoming View
Easily check and organize your schedule over time.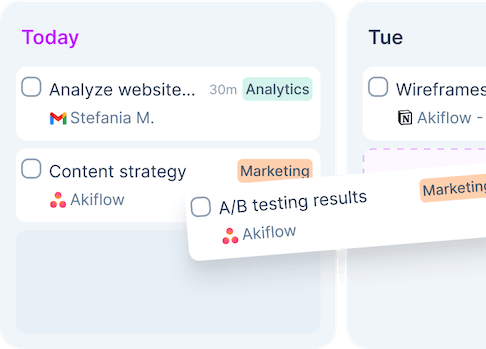 Command Bar
Forget about your mouse when creating a task. Use the command bar to schedule date, time, duration and categorize the task with labels and priority.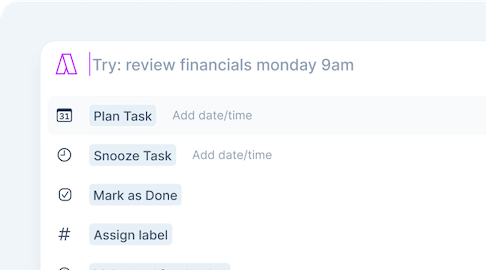 Discover more ->
I've been using Akiflow for many months now. It's the only solution I've found that combines a solid todo list, with calendaring, so I can block out time and not take on too much and over commit, and also integrates with the tools the team uses for project management. It's fantastic and has totally changed how I approach my time management. It also keeps getting better and better — great work!
James Gill
CEO , GoSquared
I have been using Akiflow for close to 1 month now...it is really changing the way I work & focus. Every day I feel much better in terms of accomplishing more stuff and at the same time know I'm not leaving anything behind from email, slack or whatever. Kudos to the team at Akiflow!
Baskar Ganapathy
Product and Strategy , Whatfix
This is hands down the best calendar & tasks app. I have tried many new calendar & task solutions - Motion, Sunsama, Morgen - but the UI and UX of Akiflow wins hands down. What I like best is that it works, and I've stuck to using Akiflow every single day as my one source of truth for tasks from different sources. Asana, Email, Slack, it all comes into Akiflow, and I now capture tasks throughout the day in Akiflow too.
James Bertram
Head of Digital , Abbott Lyon
I discovered Akiflow 2 years ago and it has completely transformed the way I manage my schedule. This productivity tool has made it 100 times faster to keep my tasks and appointments organized. What I like most about Akiflow is that it allows me to consolidate all the tools I use, making it easy to block out time for tasks and see everything I need to get done in my calendar. I would recommend Akiflow to anyone looking for a personal task manager and calendar that is easy to use and efficient in managing tasks and appointments. It has truly changed my life for the better.
Hanna Willmann
Head of Sales , Traide AI
I have used Asana, Click Up, Monday and Notion, and of all the tools, Akiflow is the best for me right now. And that's because of two main things. One is the integration between calendar and tasks being super seamless and other is because of the freaking keyboard shortcuts. There's a keyboard shortcut for everything, and I love that. So that makes it very easy to use. And another feature that's been great is just being able to pull in tasks from Notion and Asana natively. I would definitely recommend this to my friends and to someone who wants to be able to seamlessly integrate their calendar and their to do list. Highly recommend Akiflow. Thank you so much, Akiflow team, for making this incredible piece of software.
Jonathan Leung
Full Stack Engineer , Calm
Akiflow is Amazing! Using Akiflow for all my day-to-day task management has been a game changer for me. it helped me speed up my workflow and be more productive, there's no learning curve. It's just so easy to use right out of the bat that you can be productive in minutes. The ability to drag and drop tasks into the calendar, quickly creating and capturing tasks anywhere using the command bar, having all my tasks and calendars in the same place, the simplistic look and aesthetic, are reasons why I like it a lot.
Akiflow is the only app that broke my long #habit of handwriting #tasks and #deadlines! Now I have all of my tasks and #calendar management in Akiflow.
Celina Mukarker
VC , Benson Oak Venures
Finally! Akiflow brings the ease and speed of Superhuman, and the simplicity of time-blocking. With the command-bar, access to key functionality is fast and intuitive. The interface has a beautiful aesthetic. Integration with Superhuman/Gmail is excellent; capturing from anywhere is easy and includes links to the source of the task (email, web address, etc), which is a critical time saver. The addition of time-blocking provides me with what I was looking for.
Eric Cress
Principal , Urban Development + Partners
Akiflow is Get Things Done on steroids. I can easily manage my to-do items, schedule them or leave them in the Someday bucket if they are not tied to a deadline. I love that I can see my calendar and my to-do items on one screen so I can also evaluate how many calls I can add to my day based on the items in my backlog. It also integrates with Slack perfectly, so I can save items and send them to my inbox instead of relying on Slack reminders. Well done.
Francesca Marano
Associate Director , XWP
The Akiflow tool is everything I wanted for a long time. The best thing about Akiflow is the possibility to integrate my calendar and daily tasks - combined with how easy it is to create a new task without leaving my work.
Ana Luiza Conti
Branding, Marketing and Design Specialist , Freelaw
I am in love with this app. It is a game-changer and I will continue to use it for as long as it exists. Great team building a powerful task consolidation program which makes it painless to have all the tasks, events, reminders, and messages in one, well-organized location. Additionally, it is beyond easy to categorize, prioritize, and schedule each task/project through their tagging features, priority metrics, due dates, and time blocking methods. The real beauty is that you can use all of these features or only a few, as the system is flexible and capable for any personality/workflow. The Akiflow team is very interested in what their community wants to see for upcoming features and produces new features quickly. Also, this program has a broader feature base already and has countless ways to integrate with other apps like Slack, Superhuman, Todoist, Trello, ClickUp.
Tyler T
Graduate Research Assistant
I've been using Akiflow for about a month, and it is hands-down the best cloud-stitcher / productivity hack I've seen, and has a crazy-robust new feature rollout schedule. And they clearly care about the product. They saw me using and reached out for a call, quickly implementing some of my suggestions. This crew will be around for the long haul. Indispensable.
Mike Orren
Chief Product Officer , DallasNews.com
Community
Join a
community

of productive professionals!

Do you want to be part of a community that will help you to improve your productivity and shape the future of Akiflow?
Slack Community
Where busy professionals join forces to help each other improve their
productivity.
Open Roadmap
Contribute to our features roadmap and shape the future of Akiflow.
Discover more ->
Meet the team
We can't wait to meet you!
Chat and call directly with us about how we can make Akiflow better.
Try Akiflow now for a

10x productivity boost