The ADHD-Friendly Productivity tool
We understand the challenges of staying productive when you have ADHD, Akiflow is packed with features that will help you. No more distractions, no more jumping between apps - just clear, focused productivity.
Professionals worldwide stay focused, organized, and super productive with Akiflow
Universal Inbox
Goodbye to the overwhelming feeling of managing multiple apps!
No more wasted time or energy switching between multiple platforms. Your new universal inbox makes it simple to import all your tasks from various apps into one easy-to-manage space.
Discover more
Time Blocking app
Block time
for your tasks
Take control of your day and get things done, without feeling overwhelmed or stressed. Say goodbye to scattered thoughts and hello to a more productive, ADHD-friendly approach to getting things done.
Never forget a task or event again
Enjoy personalized reminders and notifications that keep you on track and focused throughout the day. Our ADHD-friendly design helps you stay organized, so you can achieve your goals with ease.
Go to the
next level


with powerful features
Quick task actions
Prioritise, Plan and Snooze with keyboard shortcuts.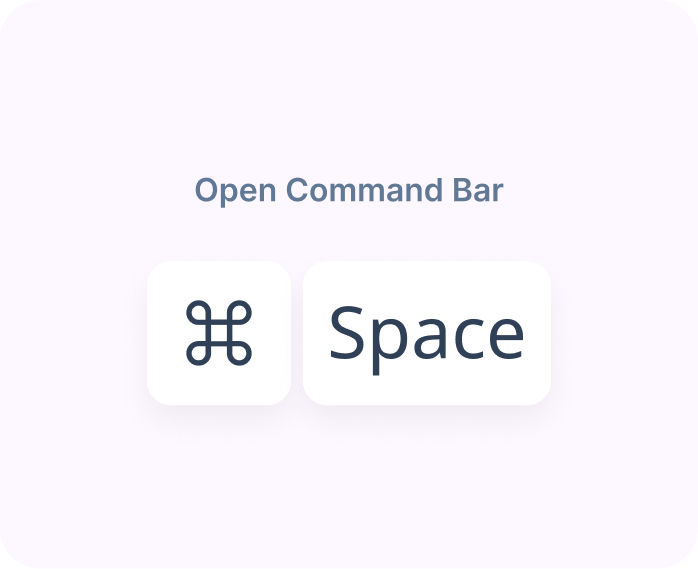 Smart Labels
Custom labels to organize your work the way it feels right for you.
Easy to add, they help you have a visually clear view of your day.
Upcoming View
Easily check and organize your schedule over time.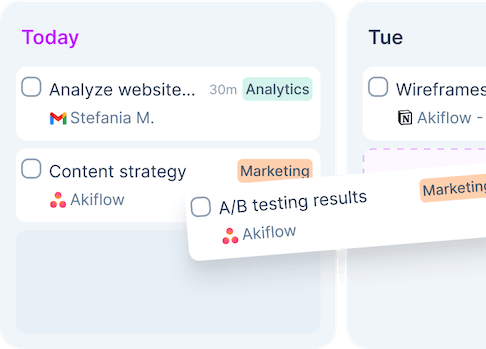 Command Bar
Forget about your mouse when creating a task. Use the command bar to schedule date, time, duration and categorize the task with labels and priority.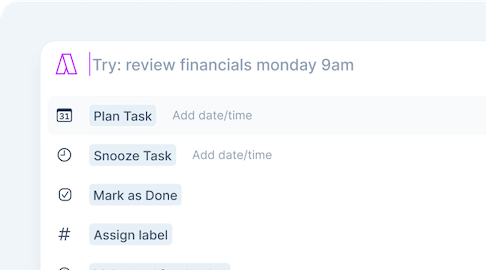 Discover more ->
Community
Join a
community

of productive professionals!

Do you want to be part of a community that will help you to improve your productivity and shape the future of Akiflow?
Slack Community
Where busy professionals join forces to help each other improve their
productivity.
Open Roadmap
Contribute to our features roadmap and shape the future of Akiflow.
Discover more ->
Meet the team
We can't wait to meet you!
Chat and call directly with us about how we can make Akiflow better.
Try Akiflow now for a

10x productivity boost