I am thrilled to announce that this update includes several major improvements and features that are sure to take your productivity game to the next level.
A New Chapter for Akiflow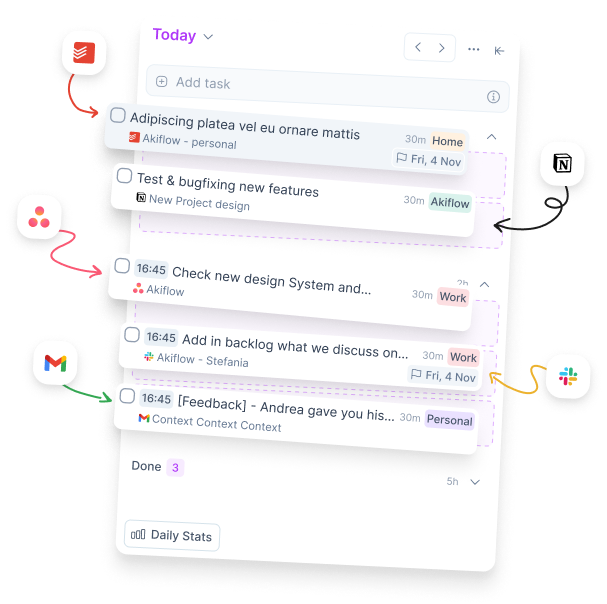 Let's start with our new redesign where we've focused on improving the overall functionality of Akiflow. Our UI has been completely overhauled to make it cleaner, more modern, and more user-friendly.
I want to take a closer look on the reasoning behind our choices.
At Akiflow, we believe that productivity should be effortless, intuitive, and elegantly designed. Today, I am thrilled to unveil Phase 1 of our app redesign.
We understand that in today's world, multitasking is the norm and distractions are everywhere. Our new design principles are based on the emerging principles of a discontinuous model.
Discontinuity is the basic pattern of a working day in the last decade. You operate frugally in a multitasking, often distracted environment. For this reason, you need an assistant to stay on top of things, stay focused when needed, and be easily guided to set up tasks and manage time quickly.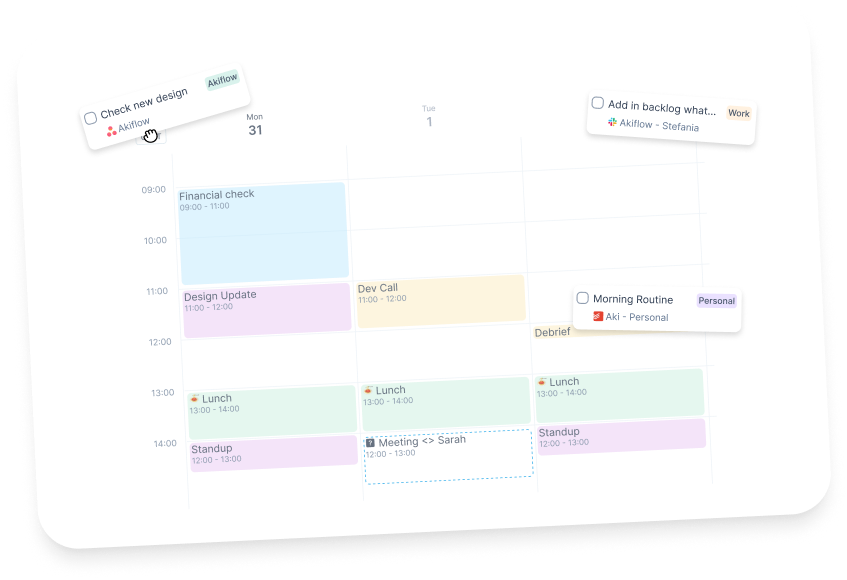 We want you to be able to operate, manage tasks, and organize your time easily, with a rapid response time. We've made everything you need easy to find, and actions related to each other are located in proximity, so you can complete tasks on-the-fly.
Our UI is stunning, with mesh gradients and lucid dreaming stationery that will inspire you to complete all your tasks. Our color scheme is bright and pastel, providing a sense of tranquility and harmony. We've designed our components to be clean, allowing you to focus on your data and complete tasks with ease.
Our UX is simple, intuitive, and empathetic, with intuitive navigation patterns, wiki access, and shortcuts to make your working mode fast and effortless.
We've also added new animations and features to make the experience even more engaging and fun!
This is just the beginning of our redesign journey. Our development team is hard at work on phase two of the redesign, which will include even more improvements and features that we know you'll love. Our goal is to make Akiflow the most intuitive, user-friendly, and effective time-blocking tool on the market.
What else is in this release
GitHub – 2-ways sync Integration: We've also added a new integration with GitHub that allows you to automatically import your issues and pull requests. This feature streamlines the task management process for developers, who can now manage their code-related tasks directly within Akiflow.
Our new "Rituals" update is designed to help you plan your tasks and goals for the following day during your Daily Shutdown. This is a powerful tool for staying organized and on top of your game, no matter how busy your schedule gets.
Much more! You can read it all here
We also want to thank our loyal users for their feedback and suggestions. Your input has been invaluable in shaping the new design, and we're excited to continue working with you to make Akiflow the best it can be.
Try Akiflow now for a

10x productivity boost