6 Planner Apps For Students To Maximize Your Studies

Introduction
As a student, you're probably wearing multiple hats with your studies. For example, managing any school or college clubs, internships, part-time jobs, etc.
And with such a hectic schedule you cannot afford to have the mental bandwidth to go back and forth between multiple apps for daily planning. 
We've compiled a list of best planner apps for students that align with their needs and ultimately help them achieve a work-life balance.
So in this blog, we are going to cover;
6 best productivity apps for high school and college students
5 tips for you to stay productive as a student
Frequently asked questions
6 Best Productivity Apps For High School And College Students
Here are the top 6 productivity apps with their best features and prices, so you can choose one that caters to your needs.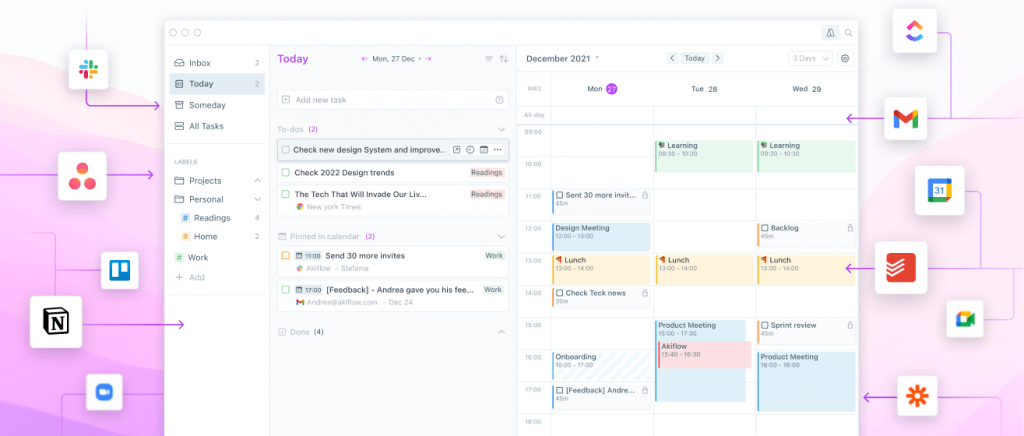 For a student, having a fixed schedule for studies, assignment completion, and a part-time job is essential to keep the stress minimal, and Akiflow can do it with ease.
Akiflow can sync your tasks from other apps to help you plan your day efficiently, saving you the trouble of switching between different apps. With Akiflow, you can access all your notifications in a single inbox.
Besides, you can assign fixed time intervals for every task, and you can also manage tasks with any number of recurrences like daily, weekly, or monthly. 
Best features:
You can access easy-to-use customized eye-catchy labels for every task.
It helps you easily complete various assignments in a flow, keeping their urgency in mind. 
Quick and easy for time management.
Keyboard shortcuts for flashy actions.
Pricing:
$15/person per month ($12.50/person per month if paid annually) Also students get an exclusive discount from Akiflow. To avail the discount you need to contact them.
If you face trouble focusing on your tasks because of internet addiction or other distractions, then Forest is the answer to your problem.
Forest is a time management tool that enables you to focus, and its integrated Pomodoro technique breaks your work hours in intervals with frequent breaks. 
The most unique and exciting thing about the forest is its interface. The moment you start working on it, the tool sows a seed that continues to grow into a tree as you work. And if you try to leave your work halfway or get distracted, the tree dies. 
Also, you can earn reward coins after task completion, which you can use to plant a tree in the real world. 
Best features:
Help you beat distractions from social platforms and deliver more focus on necessary things. 
Strategize your work hours to make the most out of them.
You can share your tree with friends.
Pricing:
Basic: Free (for Android devices)
Pro: $1.99 (one time purchase for all devices)
Clockify, as it sounds, focuses more on time management than task management. It's a time tracking tool that helps you track your work hours and illustrates output analytically.
With a proper insight into your time spent, you can plan more efficiently and ripe your primary management skills in your early life.
Besides, it also works with a Pomodoro approach—works in intervals with sufficient breaks, ultimately enhancing work quality. 
Best features:
Notifies when you forget to start the timer while working.
It eliminates extra time gauged when you forget to stop the timer.
Formulates time entries from your device's activities. 
Reports about assignment status and pending tasks.
Pricing:
Basic: $3.99/user per month(if paid yearly)(or $4.99 if billed monthly)
Standard: $5.49/user per month(if paid yearly)(or $6.99 if billed monthly)
Pro: $7.99/user per month(if paid yearly) (or $9.99 if billed monthly) 
Headspace focuses more on your mental health than just a time management tool; It improves productivity by keeping you more observant than being organized. 
With hundreds of meditation practices to keep your mind and body in perfect coordination, Headspace also helps you get proper sleep through tranquil sounds and music.
Further, Its eye-soothing interface enables you to use it for long without tiring your eyes excessively.  Its customization and team meetings features trim the complexities of a hectic schedule.
Best features:
Background music to boast focus.  
Mind-boosting workouts keep you energetic.
Interact with people with common interests through in-app communities and live yoga sessions.
Pricing:
$9.99/year (for students exclusively)
$69.99/year 
With Evernote you can schedule tasks within a favorable period, chances of forgetting anything get nil. Further, its in-built note-taking features allow you to create detailed notes with images, videos, and also with their original links. 
With Evernote, you can make multimedia presentations and differentiate between assignments with tags based on subject and deadlines. You can also collaborate with your friends on team assignments.
Best features:
You can search your notes in app
You can make a checklist for your current and upcoming assignments.
Can Integrate with google calendar.
Pricing:
Basic: free
Personal: $7.99/person per month
If you are a person who likes to journal every detail or maybe often forget important things because of multitasking, then Grid Diary is your perfect destination.
With easy-to-make checklists and a quickly accessible interface, Grid Diary allows you to make a note of any idea immediately before you lose track of it. 
You can say that it's an advanced approach of primitive diary writing with a daily planner and scheduling templates, plus that can notify you about your meeting and deadlines.
Best features:
With a simple interface now, it's way easier to plan daily, weekly, monthly, or even yearly tasks.
It can note, organize and remind you about plans. 
Equips easy-to-use customizable templates. 
Keeps every entry safe with a security password. 
Pricing: 
Basic: Free
Paid: $2.99/month or $22.99/ yearly
5 Tips For You To Stay Productive As A Student
After discussing the best student productivity app, we have outlined 5 tips to stay productive so you can execute your task swiftly and efficiently more than ever.
Know the app.
Other than being equipped with multiple features, one significant thing a time planner must have— is the capability to adapt its users' distinct purposes.
Finding an effective app that befits your needs can be a turning point in your time management journey, and adapting the same can be challenging too. 
While choosing one, you need to keep some parameters in mind while giving enough time to track apps' performance so you can estimate its maximum output. 
For this, you can access reviews from current users that can be helpful to get into the pros and cons of apps and get a brief idea about their functionality without any personal biases.
Use time blocking
Time blocking or timeboxing technique defines time slots for daily tasks and lists them as per their priorities to ensure a strategic completion of work.
Proper execution of time blocking allows deep focused work in lesser time and provides quick actions instead of brainstorming before every task.
With this method, you can easily track what and when without going back and forth to get tasks done; it makes sure you won't invest your time on unimportant things.
Also, as this method focuses on execution rather than perfection, it saves you from procrastination by its step-by-step approach to meet your crucial to-dos and gives you a sense of a fulfilling day.
Add a weekly review to the calendar
Reviewing your every-week performance; can help significantly make sure your predefined goals get clear with every step.
Instead of just rinsing and repeating, keeping track of your growth also allows you to test new strategies every week and figure out the best roadmap.
To do this, set 30 minutes every week and spend time to review your advancement and analyze how far you have to go. 
Be realistic
The biggest pitfall in planning your day is setting unrealistic goals. And a schedule with no breathing space can only lead to an overwhelming list of pending tasks, which can hinder your morale.
An unrealistic schedule will postpone the pending task to the next day, which can ruin tomorrow too. 
In the beginning, try to set your schedule with the primary three highlights of the day and increase them as you get used to it. Further, allocate necessary gaps before starting new work, and make sure your schedule is flexible enough to deal with an unforeseen scenario.  
Daily check-ins
Take a look at your whole day's plan after waking up, it will not take much of your time, but this works extensively. 
Starting your day with your goals in mind can make your execution more precise, preventing you from wasting effort on trivial tasks. 
So make sure to have an overview of your plan when you wake up tomorrow morning, which will only take 5 minutes at most.
Frequently Asked Questions
How can you improve your productivity as a student?
Productivity goes hand in hand with efficiency. If you're already tired of bringing up your total efficiency, don't push yourself to multitask. Instead, trace your daily study routine with the help of student productivity apps and take breaks where due.
How can I improve my focus and productivity while studying?
To improve productivity, avoid being a multitasker; instead, try to get off single tasks at a time rather than scattering your focus and taking a toll of twenty to-dos.
Besides, time blocks your social media usage and gets some guiltless breaks.
Conclusion
Generating time management habits and event planning in your early days when you are more agile will turn out great later. 
Students with proper time management are more adaptable, and their work quality is also top-notch. So get yourself inherited self-discipline, set your goals, and plan to reach them.
And daily planar and time management apps can help you a lot, align your goals with the app's features and find one. 
Every app in the list above has its specialty domain, but Akiflow has it all. So if you're looking for your one-stop solution to all your troubles, sign up for Akiflow's free trial of 14 days.
Try Akiflow now for a

10x productivity boost